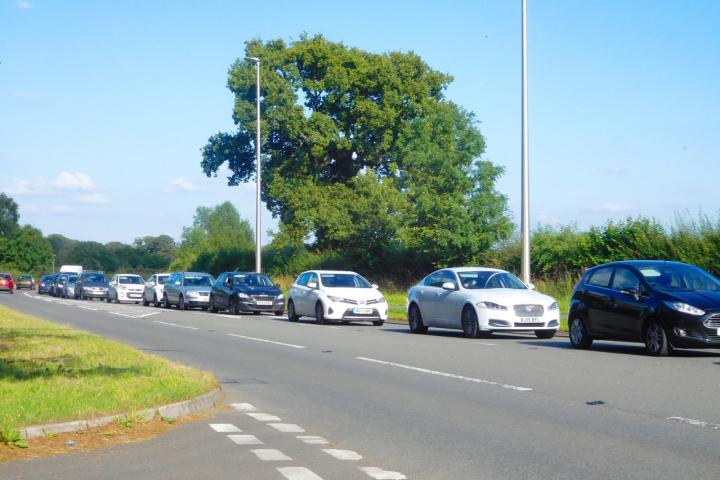 Motorists have been facing long delays heading out of Wilmslow towards the M56 for weeks whilst work is being carried out at the World Logistics Hub.
Many of whom have complained that the setting of the temporary traffic lights is wrong as there are no queues heading in the other direction.
Paul Wadsworth told wilmslow.co.uk "In the morning the traffic is backed up to Texaco all the way to Airport City turning. These lights are manned but it seems they aren't running long enough to allow traffic to flow as once through the lights there is no jams to the M56."
Mr Wadsworth contacted UDP (Utilities Design & Planning Ltd).
Dave Hilton, Director at UDP, said "Sorry about your delays – unfortunately the timings are legally pre-set into temporary light systems – we have it set on the legal minimum time for the turn into Amazon – however, our priority is to prevent any traffic building up off the motorway slip roads heading towards Wilmslow, this necessitates us preventing the right turn into Amazon blocking the Wilmslow bound lane (hence the operative on site), and this does unfortunately cause a build up heading towards the motorway."
Mr Hilton added "Hopefully the works should be finished by the end of the year and the new junction lay-out will be set to prevent the delays."
Tags: