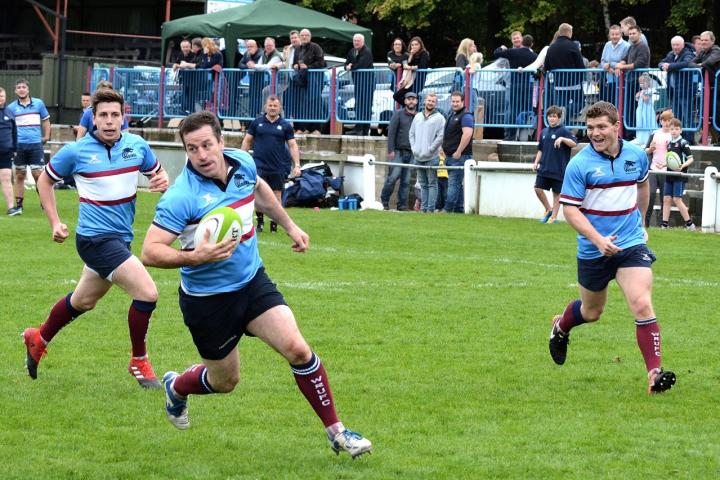 Saturday 23rd. September 2017
North 1 West
Wilmslow 45 – 24 Douglas (IOM)
Nobody was quite sure what to expect from Douglas (IOM) on their first visit to The Memorial Ground but it soon became evident that the Wolves were in little danger of surrendering their hither to unbeaten league record. They ran in four tries in the first half to lead 24 -3 at the break and then shared three tries apiece in the second half. At 38 – 10 with about ten minutes remaining the game was effectively won and whilst two late tries from the Manx men put a gloss of respectability on the final score, it was never going to change the outcome.
The Wolves had been expecting a serious challenge from newly promoted Douglas (IOM). The new boys had started well with two solid home wins against Warrington and Northwich, both decent outfits, and had given Waterloo a fair run on their sole cross channel appearance so far. Most of the side that had seen off Northwich, the preceding week, were on the plane to Wilmslow. Reports had indicated that the Manx side possessed a chunky well fed pack of forwards so the Wolves' game plan was to put a bit of width, pace and urgency into their play and to keep the visitors' pack on the move. On a benign early autumn afternoon on a firm grassy pitch with just a bit of spring in it, it worked a treat. The only misgiving was that the Wolves didn't ever really get out of cruising mode and even in the face of some curious refereeing decisions the outcome should have been more emphatic than it eventually was.
The Wolves were on the scoreboard within five minutes when hooker Conor McMurdock broke the Douglas line in his own twenty two. He then passed inside to Sean Street and the scrum half sailed all the way down the field, tacking from one side to the other and holding off a fragile defence, to score under the posts. The Wolves continued to dominate play but they failed to always control the ball, they dropped passes and passes floated into open space all prevented them from adding to their early score. The visitors soon capitalised on this profligacy to land a penalty after twenty minutes. The second quarter saw the Wolves add three tries in fifteen minutes. A Bob MacCallum penalty to the corner set up a catch and drive finished off by prop Jordan Ayrey. Douglas then fouled up a defensive scrum, lost possession and when the Wolves released it from the ruck, Street feinted to pass and then darted through the gap, like a rat going down a drain pipe. A second kick to the opposite corner set up the bonus point winning fourth try. Quick messy ball from the lineout led to an inside pass to No. 8 Alex Taylor, who advanced to within a couple of strides of the Douglas line before being stopped. The recycled ball came back quickly and the Wolves found themselves with acres of room and spare men which enabled centre Ethan Harding to run in for the try. The Wolves then dropped the restart and were on the back foot until referee Mark Hiney blew for half time.
The second half started with the Wolves captain and talisman MacCallum dislocating his finger and having to leave the field. Rick Jones shuffled the cards by bringing up Ollie Wilkinson to No. 10, moving Elliot Brierley to full back and bringing the veteran Rick Hughes into the centre. It didn't seem to disrupt the Wolves over much. Wilkinson is a decent footballer, who you can play just about anywhere in the backs apart from the wing and he settled in seamlessly. If he does have a fault though, it's a tendency to throw highly ambitious long flat passes, which are susceptible to being intercepted by an alert defence. If you're chasing a game with ten minutes to go, then it's a high risk strategy which can be very effective when it comes off but if you're comfortably in control and twenty points ahead, I'm not so sure. An interception is just what happened. The Wolves managed to get back to tackle the Douglas runner just short of the line but referee Hiney saw something, which nobody else did, and to howls of protest awarded a penalty try.
There was no panic though as the Wolves soon hit back and from a five yard scrum, Street broke away before slipping the ball to Alex Taylor, who made it for try No. 5.
The sixth followed straight from the restart when Street set off again and gave debutant winger Will Maslen a chance to stretch his legs. Maslen, a former colt, has a reputation for having a bit of gas about him, coupled with good passing skills and decision making. Whenever he got the ball he made ground and kept it alive. When it was recycled left ten yards or so short of the Douglas line, it gave Hughes the chance to break through. The next bit of good news for Rick Jones was the goal kicking of the versatile Conor McMurdock. He'll play anywhere to get a game and he practices assiduously. His hooking must have been fine, his lineout throwing OK and with three out of three his goal kicking couldn't have been improved upon. On this showing, the No. 2 shirt could be in his possession for a while, even though there at least three other credible contenders for it when they're all available.
The game was now clearly won but that was to reckon without Douglas winger Nick Brooker, who caused the Wolves defence no end of problems when he picked up any loose ball kicked to him, particularly in the final quarter. On several occasions, he ghosted through from deep without hand being laid upon him and deservedly got two tries for his side. One of them was from a clear knock on by a Manx forward in the lineout after a misdirected Wilmslow throw. It went unnoticed and after several plays Brooker was there for the final pass and touchdown.
The Wolves still had the last word from a 'tap and go' with livewire Street racing through for his third try and they were on the Douglas line seeking to bring up the fifty when referee Hiney brought proceedings to a close.
Nevertheless, there was still something of a hollow feeling afterwards. An early start so that the Manx men could get to the airport on time for the only available flight home without even having time to shower and change left the clubhouse strangely empty at a time when it would normally have been buzzing. Jones had been forced to make a handful of changes and felt that his side had got stuck for long portions of the game in second gear. On the plus side, there had been an exciting debut from Will Maslen, Sean Street had looked sharp and back at his best, Wilkinson, his interception pass aside, had stood in well for MacCallum, who'll be side lined for a few weeks, and you couldn't have asked for more from Conor McMurdock. Overall the work rate of the whole side had just been at a different level to their opponents.
Jones commented afterwards that the 'work rate' in both the Wolves and the Vikings was no accident. Attendance on training nights was better than for a couple of years. A number of promising youngsters were putting in the effort, testament to the number of debuts so far this season, and with the Vikings now winning well, there was clear evidence that if you train, get fit and put in the effort, the results will come. Is there some real competition for places in the first two sides now developing, I wonder?
Next week, it's an awkward trip away to St. Benedicts at Whitehaven. It's a long haul up there to play on a difficult pitch. The players should pay no attention to St. Benedicts recent results and remember they will have to get a long journey out of their legs quickly to prevent the home side from taking an early grip on events.
Photo: Rick Hughes on his way to scoring for the Wolves.
Match report by David Pike.
Tags: