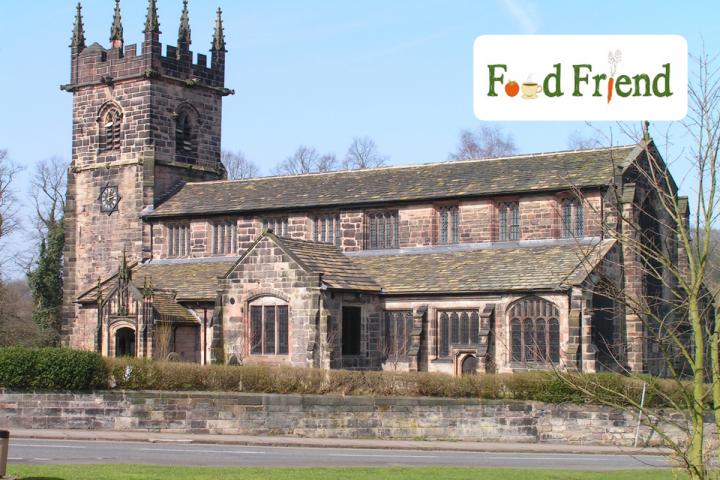 Organisers of a food bank in the town have confirmed that a significant number of local residents are struggling to provide food for themselves and their families.
In an application for a grant from Wilmslow Town Council for Food Friend, which is run from St Bart's Church and supports over 200 households, Revd Paul Smith said "Given the demand for assistance from Food Friend over the last few years, it is clear that the current economic climate has meant a significant number of local individuals and families are genuinely struggling to provide food for themselves."
He continued "It has further been our experience that people in this kind of situation and in an increasingly fragmented society, also find themselves isolated or under considerable emotional strain of one form or another. This is why having a trained counsellor running the project is of such benefit."
The application for £3000 from Food Friend was awarded by Wilmslow Town Council at their meeting on Monday, 18th September. This will enable the Parochial Church Council of Wilmslow to continue their food bank project which started in 2011 as an attempt to provide support for individuals and families who for whatever reason found themselves unable to put food on their table. The aim is to provide short term assistance for local people until they are able to access benefits or employment.
In the application, Revd Paul Smith, Chair of the PCC said "With the support of Wilmslow Town Council we extended this provision in January 2014 by having the church open 5 mornings per week and the project run by a trained councillor. We presently support over 200 households and wish to be able to continue this work.
"In December our balance was £12,547.26. In June 2017 it was £7,694.30. Another £3000 would enable us to 'top up' the funds of the project for another year."
Additionally, the Citizens Advice Bureau applied for a grant of £29,000 plus £7250, Wilmslow Town Council decided to award them £29,000.
Councillor Martin Watkins explained "They asked if the Council would fund an additional £7250 (25%) to 'fund' 3 months notice to their staff should WTC not renew its grant application. The Council said that they would entertain a further application from the CAB at its April 2018 meeting which, if approved, would be paid in September 2018 thus preserving annuality. This would ensure that the CAB has, at least, 4 months notice as to whether or not the grant will be renewed. This method would not require the £7250 to be paid upfront."
The Town Council has been supporting CAB since 2012, having awarded them £136,000 in the past 5 years, to enable them to provide services in Wilmslow so local people do not need to travel to Macclesfield to receive advice and support.
The grant will be used to continue providing 4 sessions a week in Wilmslow on Mondays, Tuesdays and Thursdays* for the next 12 months.
William McKellar, Chief Officer at CAB, said "The service benefits the Wilmslow community in several ways. It is acknowledged that people most in need want face to face advice and the current service allows residents and people working in Wilmslow to access face to face independent advice, information and support from a recognised and trussed brand in a number of locations, either with an appointment or, for immediate need, via 2 drop in services."
The third application considered was from Wilmslow Bowling Club for £2000, which the Town Council decided to award half of, to replace and install new floodlights as one was brought down in a storm and the others were heavily corroded.
Lighting is a requirement for them to continue to play league matches as many of these are held in the evenings. The total cost of the project is £18,000, £8000 has been raised from member's donations, a grant of £5000 has been applied for from Cheshire East Council and a grant of £3000 has been applied for from Manchester Airport.
Colin Tranter, Development Officer said "Our club was established in 1860 and as such is part of Wilmslow history. Without lights we face extinction.
"Whilst crown green is the focus, our club has a social focus, with fondues, social bowling and society competitions, bringing people into the area."
He added "We are not complacent about our history, and heritage, and although we only have 128 members we have raised £8000 over and above our annual subscription toward our enormous cost we are facing."
Councillor Martin Watkins said "Like all applications to the Council, consideration was given to a number of factors such as cost, self funding and results from other funding sources. A material consideration is how many potential beneficiaries there are. Council considered various funding support but the only one which gained majority support was for a grant of £1000."
Finally Alderley and Wilmslow Musical Theatre Company applied for a grant of £3576 which they were awarded, dependent upon other grant applications, to cover the cost of hiring the Evans theatre for a week in November for their main show of the year.
Hilary Gradon said "The Society has had an excellent relationship with the management of the Evans Theatre. There is an overall increase of £315.60 for the hire of the Evans this compared with the contract price for 2016. There is no other performance space in the Wilmslow/Alderley area that matches the requirements of the Society for our main show of the year."
*The CAB service in Wilmslow is:
Open Door Service - 9.30am to 12.30pm Monday at the United Reformed Church.
Appointment Service - 10am to 1pm Tuesday at St Bart's Church.
Appointment Service - 10am to 12pm Thursday at Wilmslow Parish Hall.
Open Door Service - 4.30pm to 6.30pm Thursday at Wilmslow Library.