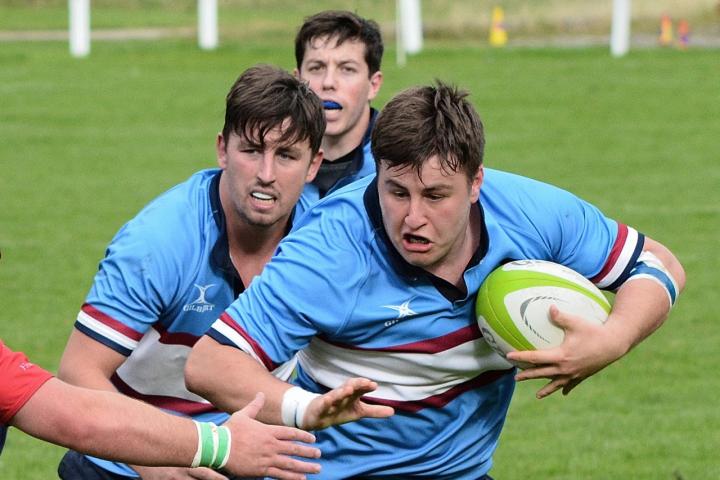 Saturday 16th. September 2017
North 1 West
Wilmslow 35 – 32 Waterloo
If you had been a neutral, possibly not even a regular rugby supporter, who had turned up at The Memorial Ground because it was a nice afternoon, you would have had your taste buds for more thoroughly stimulated by an enthralling game, which went right to the wire with the result in doubt up to the final last kick of the game at goal.
It was a fine advertisement for amateur rugby union with players on both sides displaying endeavour, commitment and no little technical skill. The neutral would have concluded that neither side deserved to lose but sport is rarely like that. The visiting coaches and supporters just shook their heads, gutted, frustrated and distraught that their team had lost a winning position in the last five minutes of play and for the second time in three outings failed to seal a win from a last kick of the game penalty shot. You could understand their point of view. Wilmslow players and followers, on the other hand greeted the final whistle with a huge cheer accompanied by an enormous sigh of relief.
Coach Rick Jones said afterwards that if the Wolves had been the Wilmslow Wildcats, they would have used up at least one of their nine lives. "I don't want to go through that again", he added, "at one stage I thought that I would need treatment from the defibrillator in the physio room to keep me going!"
With five minutes to go, it looked as though the visitors were going to win when their fly half, Alex Vowles-Bradley, threaded through a well judged little cross kick for his Kiwi full back, Brad Cave, to run onto and score their fifth try of the afternoon to take them to 28 – 33. The win was in their grasp. They only had to take the restart cleanly and retain possession to leave with the maximum five league points. But they knocked on at the restart, then got themselves offside at the scrum to let Wilmslow No. 10 Bob MacCallum set up a position five metres or so from the Waterloo line. The drive was well defended and forced into touch.
Waterloo had the chance to clear their lines but the ball was taken cleanly by the Wolves' Adam Hewitt and the drive was on again. It was fiercely defended by Waterloo at the cost of some persistent offending and after several tap and go penalties, second row Tom Bull, helped by a huge shove from his team mate Connor Loomans, managed to get himself over the line for the critical touch down. MacCallum kept his nerve and drilled the conversion through the centre of the uprights. If you thought that would be it, then you were wrong.
The Wolves took the restart and were sensibly playing their way up the field until it was time to make the final exit kick. Nobody wanted to give away any penalty but referee Bygrave had been particularly harsh in his interpretation on the breakdown laws all afternoon; he found something he didn't like and Vowles-Bradley had the chance from about thirty metres midway out to win the match. He knew that it was a now or never moment so he took his time to prepare, no doubt said a prayer, and then shanked his kick across the goal where it was taken by Wolves full back Ollie Wilkinson, who to a chorus from the home supporters exhorting him to get 'the bloody thing off the park' did just that.
That it had all come down to this was partly the fault of the Wolves who had failed to take sufficient advantage of their opportunities in the first half when they had much the better of territory and possession and partly because Waterloo had the fastest men on the pitch in the shape of their back three, whose counter attacking whenever the ball came their way caused the Wolves plenty of trouble and with that little extra bit of gas were also able to hunt down Wilmslow players in promising positions. Well as James Coulthurst and Ollie Wilkinson played for the Wolves, they just didn't have the legs to escape their pursuers when the line was in their sight .
Waterloo were relegated from the National Leagues for the first time ever last season. They lost a lot of their players during that period and had to embark on a rebuilding exercise, assembling a new young side bolstered by a few old hands. The evidence so far is that they've got far more right than wrong. Sixteen tries in their first three matches in N1W shows plenty of potential and, even though they've now lost two of their three games by the narrowest of margins, both of them with last kick of the game penalty misses, the evidence suggests that they're capable of growing into a real force in the next few weeks. Come the season's end next spring, I wouldn't be surprised if they were in the mix for a speedy return to the higher echelons.
Wilmslow meanwhile have three wins from three and find themselves in the top three with a maximum fifteen points but nobody is jumping up and down with any excitement. The side is still work in progress. Rick Jones and his team know they still have plenty to work on and getting a settled side in the face of so many other player commitments is a constant headache. But these are problems that will face every amateur community rugby club.
Waterloo opened the scoring after ten minutes when they fielded a kick ahead and counter attacked firstly on the right, then recycled left and right again for winger Jacob Allen to cross. Not the first try of the season for Allen.
The Wolves now got into their stride. They forced a scrum in the Waterloo half from the restart, won clean possession, Coulthurst came in off his wing and slipped a neat short pass to Elliot Brierley to go in under the posts. Most of the next half hour belonged to the Wolves and they were unfortunate to come away with only three penalties for their efforts. If referee Bygrave had seen fit to play a bit of advantage after Waterloo offences, the Wolves might have got more for their trouble. But it soon became apparent that their back three didn't have the pace to elude their Waterloo counterparts when scoring opportunities beckoned.
As it was, another kick ahead midway through the half wasn't chased sufficiently hard and it was fielded by Waterloo full back Brad Cave, who ran up the field, broke a tackle and smart handling and running put hooker Scott Robson in for their second try. The Wolves only escaped by the skin of their teeth from conceding a third try when a midfield move broke down and Waterloo threatened with a kick and a chase.
Half time came with the Wolves 16-14 to the good.
The second half was all ebb and flow. Firstly, Alex Taylor finished off a short penalty move. Waterloo hit back when Connor Loomans was Yellow Carded and from a scrum Alwyn Watkins broke off to touch down. Wilmslow lock Tom Bull was next on the score sheet from a catch and drive. Waterloo then tied things up with one of their own from Joe Randa. Both sides best attacking positions were set up from a constant flow of penalties awarded for breakdown offences. As both sides were penalised equally, it did make you wonder why neither of them were able to adjust to the referee's interpretation.
And so to the final denouements. A neat cross kick and try for Waterloo's Cave and then a series of mistakes when they looked to have had the game won, let Bull in for his second try and late joy for Wilmslow.
Jones summed it all up when he said that he was full of admiration for the way his team had kept going, kept their heads up and for their character when many sides would have given up the ghost in those final minutes. "We made a fair few mistakes", he said, "took some wrong options, gave their runners too much space and missed a few chances but through it all the side kept its discipline, kept patient and in the end they got their reward – but only just!"
Photo: The Taylor brothers in union, Robert with the ball, Alex at his shoulder.
Match report by David Pike.
Tags: