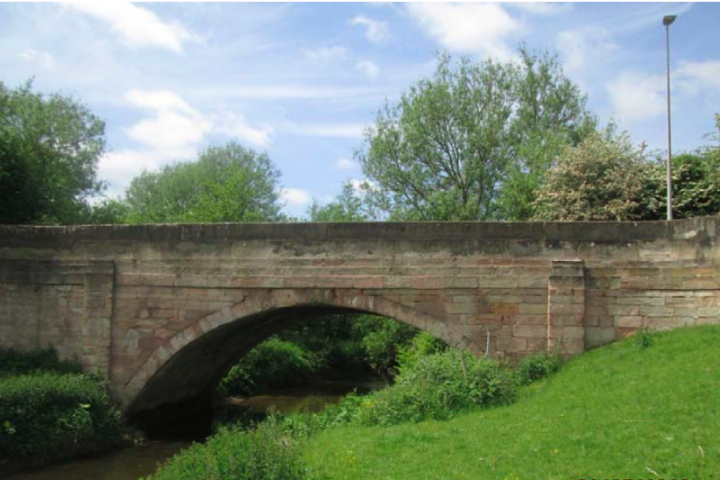 Cheshire East Council is planning to repair and strengthen Varden Bridge on Adlington Road, which local residents say is required because they have failed to enforce the weight restriction.
The Grade II Listed structure, which was built in the late 18th Century, has two cracks on the arch barrel, which will be remediated through masonry repairs and grouting.
Local resident Peter Davenport said "This bridge has been heavily used, particularly, since the Bollin Park Estate was commenced by grossly overweight vehicles delivering bricks, cement, concrete, and countless other materials, for at least 3 years. Also for removing spoil from the site."
He added "There have at least 10 (overweight vehicles) per day for this period of 3 years. On top of this the road signage is wrong, and quite frankly Cheshire East are not in the least slightly interested. Sew and ye shall reap. No one has taken the trouble to check all the invoices from the firms involved, so Cheshire East foots the bill through incompetence."
The Council is is proposing to erect a temporary scaffold, carry out the masonry repair, remove the scaffold, drill and grout through the carriageway, resurface the carriageway and then re-open road.
The application for listed building consent states "The scheme has been proposed due to the structures current assessed capacity of 18T and to address the defects in order to maintain the condition of the bridge and ensure its longevity, CEH intend to remediate the structure to a capacity of 40/44T as a result of the proposed works."
The proposed works, which will not alter the appearance of the bridge, will take approximately 7 weeks and are scheduled to be carried out July to September 2018.
The application states "The road closure will be in place for no longer than 2 weeks and shall be in place following completion of the masonry remedial works."
Upon completion the Council says the bridge will be capable of sustaining 40-44 tonnes.
The planning application can be viewed on the Cheshire East Council website by searching for reference 17/4356M. The last date for submitting comments is 12th October and a decision is expected by 30th October.