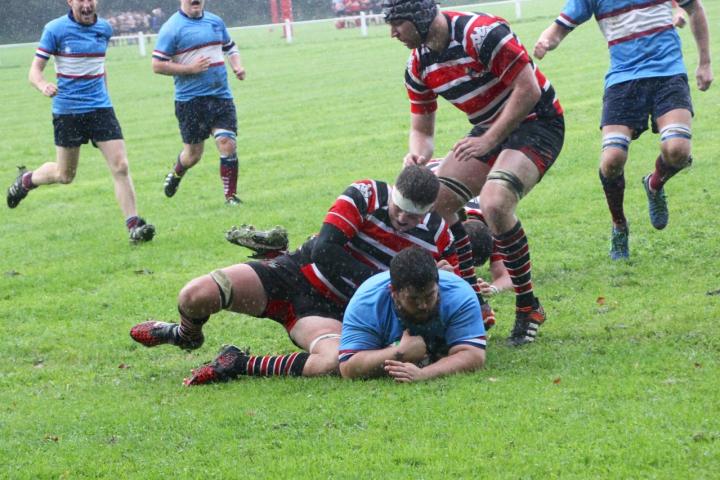 Saturday 9th. September
North 1 West
Altrincham Kersal 9 – 36 Wilmslow
What a difference a fortnight can make. Back then it was all doom and gloom after a threshing at Sandbach but two decisive wins since then against Carlisle and now Altrincham Kersal with two very different sides will have changed coach Rick Jones' perspective. From wondering who to put in, he's now left wondering who to leave out. It's the coach's dream when so many players hold their hand up for selection.
Nevertheless, the first half hour at Stelfox Avenue was absolutely torrid. Playing into the face of a nasty squall coming out of the West, the Wolves had AK throwing everything at them, including the kitchen sink, and were under constant siege. The AK pack was causing the Wolves problems in the scrum and at times, it seemed that AK just had to score but somehow the Wolves defensive line held, they nicked a couple of lineouts on their own line and AK had only three penalties to show for all their pressure and advantage.
The squall then died down and so did the venom in AK's play. It took the Wolves fully thirty minutes to get into AK territory and quick thinking immediately produced a try for Elliot Brierley. A 9 – 5 deficit at half time was remarkable given the opening spell. Roles were then reversed at half time, nothing to do with the squally conditions, which favoured neither side, as Wilmslow took complete and utter control of the game. They scored five tries without reply and kept AK, who never once got out of their own half, corralled deep in their own territory.
It had all changed after the third AK penalty, kicked by fly half Dan Coleman. Bob MacCallum was getting plenty of practice in restarting the game and this time his kick was just right for his left winger James Coulthurst to chase and grab possession. The restart has become an important part of today's game and this was a sublimal moment. For the first time the Wolves had possession in AK's half of the field and soon earned a penalty. MacCallum sent the kick wide but from the drop out, scrum half Nick Barker took the ball and the backs were soon running it back into the AK half. AK got penalised again and in a blink of an eye MacCallum caught the AK defence off guard and released Brierley, who ran in for the Wolves opening score.
It was now a different game and the second half started with MacCallum kicking to the corner and from the lineout No. 8 Alex Taylor worked the Wolves' favourite front of the lineout move for the second try. Moments later, whilst AK were busy working out how they were going to stop a repeat from a five yard lineout, his brother Robert Taylor broke off from the drive infield and touched down. From the same position soon after a further drive produced a second try for Alex Taylor. If that piece of the Stelfox ground were to be renamed Taylors' corner you would know why. In the space of fifteen minutes it had gone from 9 – 0 to 9 – 24.
It would now take something special from AK to get back into the contest but, unlike the previous week when they had come from behind with three late tries to win against Firwood Waterloo at Blundellsands, they found that on this occasion the Wolves weren't letting their vice like grip on proceedings loosened. Yet another forward drive led to a flowing backs' move which saw Coulthurst touch down and the game ended soon after when substitute prop Adam Taher had scored the sixth try. Taher was in the middle of the line, where you wouldn't normally expect to find a prop forward of his stature but he took the pass, sold a dummy and with the game already won, you could hardly blame the defence for standing off in the face of a twenty stone behemoth hurtling down on them like a run away goods train.
It was all smiles afterwards, at least in the Wilmslow camp. Rick Jones really didn't know where to start. It had been a really good team performance, he said, to come back after being battered for half an hour and then to score thirty six points without reply. Once again the Taylor brothers had been immense, the unsung Matthew Shufflebottom had just grafted and grafted in close play, tackling anything above daisy height and slowing down AK's possession. It was his type of game, wet and slippery conditions at that time taking a bit of pace off the game. Connor Loomans at No. 7 put in another powerful shift, Nick Barker, the ultimate sporting Corinthian, called up in Sean Street's absence at scrum half never put a foot wrong and nor did left winger James Coulthurst, whose decision making, running and play throughout caught the eye. But above all, Jones said, it was a team performance with everyone contributing and you couldn't ask for more than that.
Next week, the Wolves are at home to Firwood Waterloo. It'll be the first visit to the Memorial Ground by the men from Blundellsands in over thirty years so the Wolves will have to be on their guard against a side which will be something of an unknown quantity.
Photo: Adam Taher's try
Match report by David Pike.
Tags: