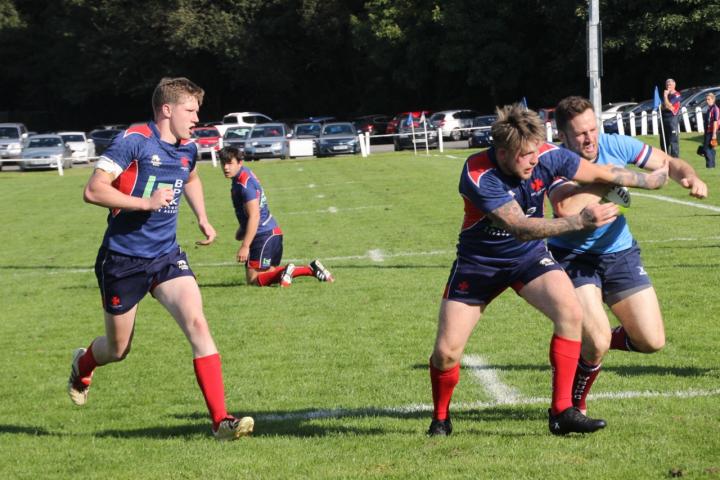 Saturday 2nd. September 2017
League North 1 West
Wilmslow 34 – 18 Carlisle
This was a thoroughly entertaining match played in glorious sunshine that ended with Wilmslow having scored five tries to two by the visitors from Carlisle. Make no mistake though, they were given a thoroughly good examination by a much revitalised and decent Carlisle side, which could justifiably claim that the final margin flattered the Wolves.
As the game entered its final fifteen minutes, it was 19 – 18. Carlisle had dominated the first twenty five minutes of the second half, allowing the Wolves virtually no sight of the ball and had clawed their way back from a 19 – 6 half time deficit. They must have had more than just a faint whiff of victory in their nostrils. But not for long as Burglar Bill, alias Wilmslow scrum half Sean Street, latched on to a pass from Ethan Harding to race away for a seven pointer.
Carlisle heads visibly drooped as they seemed to run out of puff in the heat and moments later winger James Coulthurst applied the 'coup de grace' with his second and the Wolves fifth try. Bob MacCallum's last minute penalty was merely the icing on the cake.
After last week's drubbing at Sandbach, there was a much more convincing look about the side coach Risk Jones had at his disposal for this opening league match.
In the backs, Ben Day had moved to full back, which is probably his best position. Elliot Brierley was back at centre after several seasons of National 1 rugby at Macclesfield. Ethan Harding had swapped the cricket pitch for rugby, always a difficult decision to make when summer and winter sports overlap. James Coulthurst now restored after injury from last season was on the left wing and young George Witham was given a second chance after his debut at Sandbach the week before. Up front, the burly Tom Bull partnered Adam Hewitt in the second row; the Kiwi Conor Loomans was back at No. 7 and there was a debut for Charlie Gardiner at No. 6. Elsewhere the proven stalwarts of the Taylor brothers, Adam Hewitt, Josh Whiteley and Jordan Ayrey were all there. It just looked a more solid selection and so it proved.
Carlisle were first off the mark when their No. 10 Max Connon, who caused the Wolves no end of trouble all afternoon, slipped a tackle to set up a period of Carlisle ascendancy which ended with him knocking over a penalty after 10 minutes. Even at this early stage it was noticeable how solid Carlisle were in the set piece and how they were able to retain possession without making unforced errors. If there was one characteristic to their play all afternoon which stood out, it was 'patience'.
The Wolves still had to dig in to defend their lines until a Bob MacCallum penalty put them into catch and drive territory on around twenty minutes. It didn't look the most convincing drive you will have ever seen but, no matter, hooker Josh Whiteley managed to touch the ball down and MacCallum converted from the far touchline. Three minutes later Whiteley was on the score sheet again as he got across to finish a backs move in which Brierley's ability to put a bit of pace on to things was apparent. It wasn't difficult to see the extra dimension that his quality was able to bring to the side.
Connon then slotted his second penalty for Carlisle but Brierley again was instrumental in setting up a score for Coulthurst as half time approached. MacCallum's conversion was mishit but the ball staggered on like a drunkard and flopped over off the crossbar. At that stage nobody knew how significant the extra two points would be later on.
Carlisle were clearly no beaten side and they dominated the first twenty five minutes or so of the second period, during which centre substitute Andy Glendinning and fly half Connon both touched down. There was a constant trek of Wilmslow players to the touchline for technical Yellow Card offences during this period, a sure sign of how much pressure they were having to absorb and you have to say they were fortunate to concede only twelve points.
Carlisle would have fancied their chances but the Wolves were able to force the visitors into making late errors and to grab a bit of possession which allowed Harding to release Street for the critical score and then for a concerted effort from backs and forwards alike to get the ball to Coulthurst, who had just enough time and space to finish it off. He had a lot to do when he got the ball but determined, hard and sensible running enabled him to get probably the best try of the match.
Rick Jones afterwards found that he had much more to be happy with than not. He said "It was a massive step up from the previous week. There was some really good attacking play with crisp passing and intelligent running off the ball and not just from the backs. Up front, the set pieces were much better and when they had to defend, they made things as difficult as they could."
Jones was delighted with the showing of young Witham on the right wing, making some good runs and only once getting caught out by his opponent, Carlisle's experienced Ben Purdham. He thought that Loomans had nailed down the No. 7 spot with a proper open side performance and in the front row Robert Taylor's work rate on a steaming hot afternoon was outstanding. If he had a criticism then it would be that the side needed to become a bit more 'street wise' and at times to be more patient. he added "Against a decent and much improved Carlisle side though, it had been good work in progress."
Next week, the Wolves are away to Altrincham Kersal in the first of a series of local derby matches.
Photo: Wilmslow winger James Coulthurst brushes off the defence on his way to scoring Wilmslow's fifth try.
Match report by David Pike.
Tags: