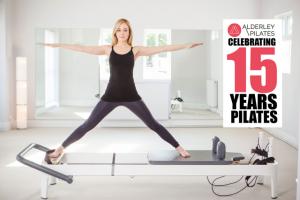 Promotional Feature
Alderley Pilates is celebrating the 15th anniversary of the studio with a series of special events between Saturday 9 September 2017 and Sunday 17 September 2017.
A particular highlight is the visit from Lynne Robinson, co-founder and director of Body Control Pilates, also known as the 'Queen of Pilates'. She's recently been seen demonstrating sample exercises in print media such as OK, Hello and the Telegraph, and has been credited for Holly Willoughby's new 'lean and fit' body.
Excitingly, Lynne will be teaching the 1.00pm class at Alderley Pilates on Friday 15 September.
At 2.00pm, you can hear Lynne's talk about the benefits of Pilates.
At 3.30pm, Lynne will be signing her book 'Pilates for Life', and cutting the studio's 15th birthday cake.
Alderley Pilates co-founder, Peter Bowen, comments: "This is probably our biggest set of events, ever! Places are limited so they need to be pre-booked. In particular, Lynne's visit is sure to be popular."
The fun doesn't stop there. From 6.30pm to 8.30pm on Friday 15 September, the Alderley Pilates team will be hosting a FREE fashion show at Sweaty Betty in Water Lane, Wilmslow, including a prize draw in aid of Cancer UK, glass of fizz, nibbles and a goody bag for all attendees.
There will also be a special programme of taster sessions and FREE beginners' workshops during their Celebration Week.
To book
To book any element of Lynne's visit, the fashion show, your taster session or FREE beginners' workshop, visit www.alderleypilates.co.uk, email info@alderleypilates.co.uk or phone 01625 860 475 and quote reference HAPPY15.
About Alderley Pilates
Local residents are lucky to have Alderley Pilates on our doorstep.
The studio was founded in 2002 by Jan and Peter Bowen, who have been teaching Pilates since 2001. Their experienced team of teachers provides up to 30 group classes per week with a maximum of 12 people in each. They also provide private lessons for individuals or groups up to four.
It's important to look after your body, and Pilates is ideal for flexibility and strength, and for good joint and bone care. Alderley Pilates has extensive experience of teaching Pilates, including for rehabilitation and to improve sporting performance.
Peter, Jan and their team are committed to Continual Professional Development, with an annual training commitment. As Supervising Teachers for Matwork and Reformer, Peter and Jan participate in regular teacher training.
Since the studio opened, their experts have taught several thousand people including those with back pain, joint problems, post-surgery, and elite sports professionals.
Alderley Pilates co-founder, Jan Bowen, teaches up to 40 hours per week. Over the years, she has taught over 30,000 hours of Pilates – that immense amount of experience is unique in our area.
Alderley Pilates is ideal for anyone from complete beginners up to elite athletes and expert practitioners who want to challenge themselves.
You can book private lessons or attend the appropriate level of class, from absolute beginner to advanced. You can do Matwork or use the Reformer machines and other specialist Pilates equipment.
Every client gets individual attention in a peaceful and relaxing dedicated studio which has been refurbished over the summer, with new equipment installed.
Peter says: "We are intensely proud of the studio and our teaching. The peaceful atmosphere combined with an outstanding Pilates experience helps clients fulfil their fitness and wellbeing aims in a calm and discreet setting, whether that is to improve flexibility and core strength, recover from illness or surgery, or achieve professional sporting targets."
About Body Control Pilates
All Alderley Pilates teachers are qualified by Body Control Pilates. This means they teach to a high standard, customise exercises for each individual, and follow a rigorous Code of Practice.
Body Control Pilates has been at the forefront of international Pilates since 1996, and holds Ofqual approval as the only level 4 Pilates training provider in the UK. They are widely seen as offering the benchmark for safe and effective teaching.
Peter says: "We are the only Body Control Pilates studio in East Cheshire that provides a full programme of graded matwork classes and Pilates machines. In addition, the studio is a Body Control Pilates regional training centre."
Location
You'll find the Alderley Pilates studio at Monks Heath Hall, Chelford Rd, Nether Alderley, Cheshire, SK10 4SY.
Stay social
You can engage with Alderley Pilates on social media, including
Facebook.com/alderleypilates, Twitter.com/alderleypilates, and Instagram.com/alderleypilates
Tags: