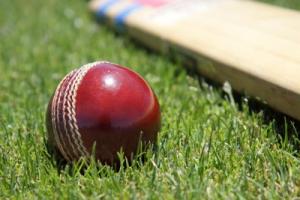 Wilmslow CC 126 ao beat Kingsley CC 110 ao.
Kingsley have been a cut above the rest this season, and arrived at the Rectory requiring just nine points, to guarantee promotion. The celebrations however, will have to wait another week as the Squirrels conjured up, an unlikely victory, and resurrected a promotion challenge themselves.
Unlikely, because as with the first meeting earlier this season, Kingsley squeezed the life out of the Wilmslow top order. It was veteran Steve Fulker (36) who applied the patience required and a total that whilst below par, provided something to bowl at.
So what about those Squirrel promotion credentials? In terms of this season, points required, make them slim indeed. But this victory, based on a superb bowling and fielding performance against the champions elect, showed in terms of talent, very possible. The spin twins Elliot Rowe (2-19) and Lloyd Sykes opened the bowling and kept it tight. Entering the fray thereafter was this seasons big success Jake Woodhouse (4-23) and the ever reliable Jags Narayanan (4-31). It was a more comfortable win than the 16 runs suggest. Wilmslow now sit fifth, and visit Oakmere another (but more likely) contender next week.
The 2nds were looking to confirm a promotion bid, at mid table Glazebury. Bizarrely, the home team were as strong as any faced all year, and it was a bit of a drubbing. Glazebury hit 189, double what most teams have managed against Wilmslow this year and then bowled well to dismiss a pretty good batting line up for 89.
Match report by Mike Harding.
Tags: