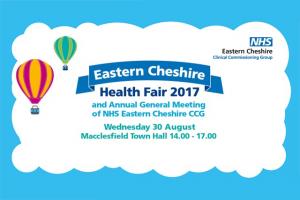 Promotional Feature
Eastern Cheshire people are to be given a chance to quiz NHS leaders who plan and buy their healthcare.
A public question time will take place at Macclesfield Town Hall on Wednesday 30 August as part of NHS Eastern Cheshire Clinical Commissioning Group's (CCG) annual meeting at 2pm.
The meeting will also feature presentations on CCG achievements including:
Launching a Talking Therapies service for people with mild to moderate stress, anxiety or depression
Establishing a highly-successful care home collaborative that is driving up standards in care homes
Joining up health and social care services in Bollington, Disley, Poynton and Knutsford through the Caring Together transformation programme as a pilot for integrated care across Eastern Cheshire.
In addition, CCG chiefs will describe their plans to balance the books as demand for care continues to outstrip growth in funding.
The meeting will be followed by a Health and Wellbeing Fair running until 5pm.
Dr Paul Bowen, CCG clinical chair and GP with McIlvride Medical Practice, Poynton said: "The fair is an opportunity for providers of our commissioned services to showcase the support they can give. For example, there will be information on losing weight, stopping smoking and finding help for loved ones with chronic illnesses.
"What's more, visitors to the fair will be able to find out how to get involved in shaping care services in Eastern Cheshire – for example by joining the Patient Participation Group at their GP practice, joining our Readers' Panel or attending meetings of our HealthVoice patient and carer reference group."
Partners showcasing their services will include:
Cheshire East Council's One You team, which is working with the CCG and healthcare providers to encourage healthy living and help people get into shaped before planned surgery.
A dementia reablement team funded by the CCG to help people with dementia to live as fully as possible
The CCG's medicines management team which advises GP practices and community pharmacies on safe, cost-effective prescribing.
Dr Bowen added: "Don't miss this opportunity to find out about the fantastic health and wellbeing services on offer in Eastern Cheshire."
For more information on the AGM and fair, call CCG communications manager Charles Malkin on 01625 663824 or 07468 707934. Alternatively, email c.malkin@nhs.net.