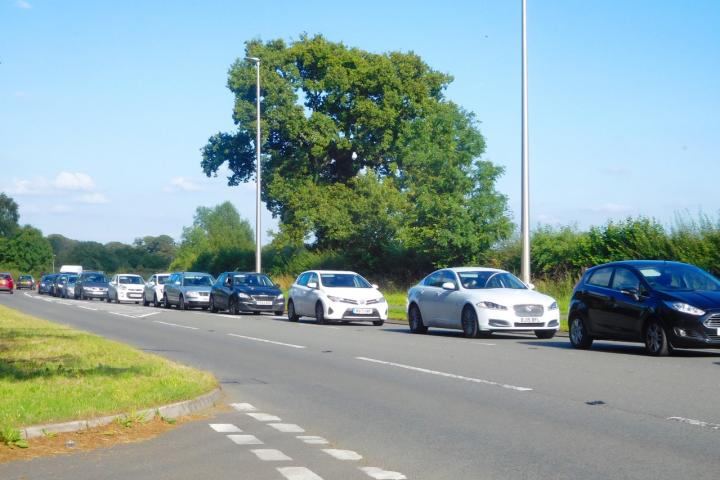 Motorists are expressing their frustration at being stuck in long queues due to road works and temporary traffic lights, or the lack of, across the town.
David Briggs told wilmslow.co.uk "At 11am (Wednesday, 9th August) leaving Wilmslow there was a 1.5 mile queue as far back as the Honey Bee from roadworks and temporary single carriageway lights after the airport tunnels.
"There was a 30 minute wait to reach the M56/Hale lights/roundabout but no traffic waiting in the other direction. Simple monitoring and real time adjustment of the temporary lights would have reduced waiting time by at least two thirds."
Just after 5pm on Thursday, 10th August, traffic heading out of Wilmslow on the A538 was queuing back from Airport City to the roundabout at Waters.
Additionally local residents have contacted wilmslow.co.uk reporting long delays due to the closure of Cliff Road and and Chancel Lane.
One driver said "On Monday when it took me 45 minutes to get from Styal Road to Wilmslow and it's now affecting Stanneylands Road too as others find a quicker route home."
Another told us "It took me an hour to do 8 miles on Monday evening coming past the airport from Altrincham, first stopped at temp lights near the garage then queued from the prison to Manchester Road... why don't they plan better."
Cliff Road and and Chancel Lane is used as short cut by many drivers so currently everyone is having to go to the end of Styal Road to join Manchester Road which is causing problems.
One driver said "They haven't even bothered to put temporary lights at the junction of Styal Road and Manchester Road so the queues are terrible."
Another responded "They definately need to do this, the queue tails back all the way past Styal Prison because nobody will let you out on Manchester Road."