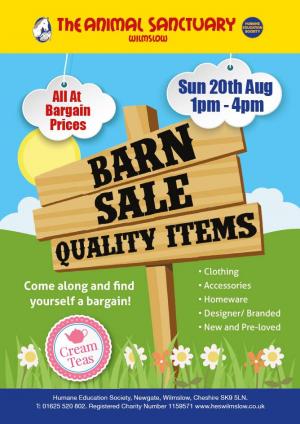 Wilmslow Animal Sanctuary is launching a new fundraising initiative to raise essential funds for the animals in their care.
The non-profit charity, which relies on the generosity of their supporters to help them fundraise, is holding their first barn sale on Sunday 20th August.
Volunteer Nicola Foster said "We have a lot of generous supporters that have donated lots of new or pre loved items to us including clothing, accessories and homeware. Many items are branded or designer so this is far more than our ordinary jumble sale."
Nicola added "This is the first barn sale we have organised, and is another way of trying to raise funds by selling the better-quality items that supporters have donated. If the event is a success we will definately consider making it an annual event."
Clothing items can be tried on before purchasing, and cream teas will be available while visitors shop.
The barn sale will take place from 1pm to 4pm at Wilmslow Animal Sanctuary, Newgate, Wilmslow SK9 5LN. Entrance is free.