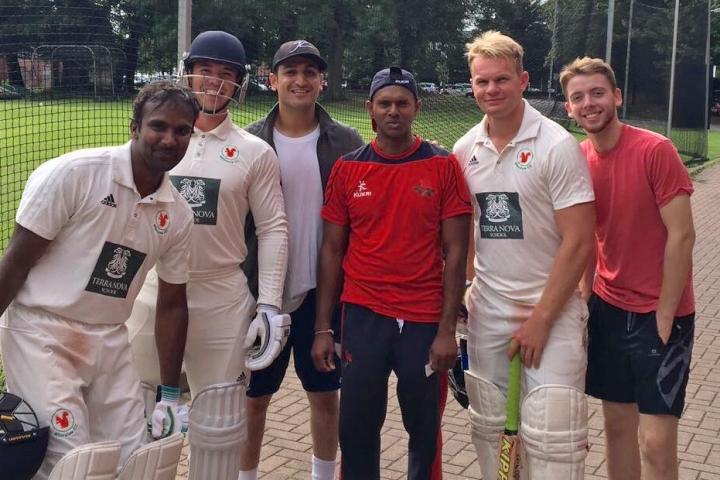 Wilmslow CC 143 for 3 beat Winnington Park 142 for 8
It is not everyday that an icon of test cricket, in this case West Indian Shiv Chanderpaul, happens across the Rectory Field to witness a UKFAST Cheshire League Two fixture.
Top bloke that he is, Shiv put up with the inevitable banter and invitations to don a Squirrels shirt.
Currently 7th in the list of all time test run getters, even he would have been impressed with Wilmslow's first over reply to Winnington Park's rather stunted 142 for 8 target. In all, 23 runs were plundered by openers Jags Narayanan and Rob Herriott. This was a great start, in fact the momentum was maintained and the target reached in just 23 overs. Elliot Rowe (43 no) and Adam Dixon (37) continued the onslaught in a calypso style.
Earlier, in soggy conditions, Jake Woodhouse and Jags had put the breaks on Park's run ambitions. Rowe and skipper Jayam Patel both chipped in, but Wilmslow were a little disappointed not to have made more of the visitors being 61 for 5 at one stage.
Whilst the 1st team sit comfortably sixth in the league, Tim Conniffs 2nd XI are top in their division and making a serious promotion bid. Ashley were this week's victims of a talented array of seam bowlers. The home side were dismissed for 70 and Wilmslow ran out winners by 4 wickets.
Dom Rowe (3-10) started it and Mohd Faisal (3-16) finished it, but Conniff has a number of options with Pickup and Ashraf also featuring.
The thirds played Ashley's 4ths, to secure probably the 'best' win of the weekend. Wilmslow bowled first and faced a daunting target of 185. With only 9 fit men it was a tall order, in the event a 150 run opening stand between Waqar Malik (105no) and Selvin Sagayum (62) turned the game Wilmslow's way to secure a win by 8 wickets.
Next week Wilmslow go to neighbours Woodford.
Match report by Mike Harding.
Tags: