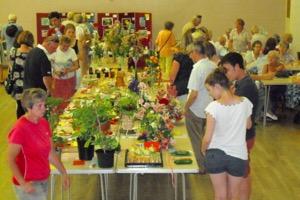 This month sees the 25th annual Handforth Village Show organised by Handforth Gardening Society and to celebrate the occasion organisers are moving the show closer to the heart of the village.
The 25th Handforth Village Show will take place on Saturday 15th July in St Chad's Church Hall, which marks a return to where the show was held for many years.
Simon Poucher, Secretary of Handforth Gardening Society, said "Over the lifespan of the show it has been held at both St Mary's Church Hall and Honford Hall and has grown in popularity.
"As with previous years there are classes for flowers, pot plants, vegetables, cookery, crafts, painting and, of course, flower arranging. It is a great opportunity for local residents to show off their skills by exhibiting in one of the classes. Alternatively, just come along and get tips from the exhibitors themselves."
The show is open to the public from 2pm and entrance is free of charge. There will also be refreshments available and a plant sale.
Show schedules can be obtained from a number of local outlets or downloaded from the Handforth Gardening Society website.
Tags: