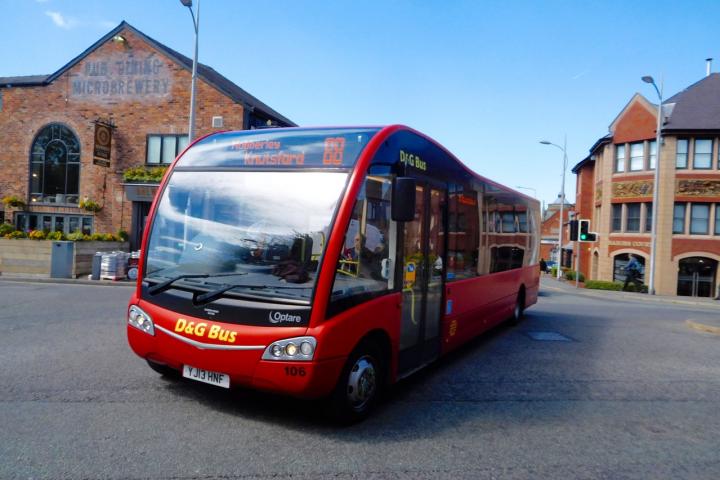 Wilmslow Town Council, working with neighbouring councils, is exploring options to save a local bus service but they need to hear the views of residents to ensure their proposals meet their requirements.
Cheshire East Council has recently carried out a review of their subsidised bus services in order to save more than £1.5m - reducing the annual supported bus service budget from £3.7m to £2.1m.
Their proposals include withdrawing the subsidy for the 200 bus from Wilmslow to Manchester Airport, which passes through Styal, and reducing the 88 Knutsford to Wilmslow to Altrincham bus from a half hourly to an hourly service,
Additionally the new D&G 378 service which launched in April - running from Wilmslow's Bank Square, through Lacey Green and Handforth to Handforth Dean Retail Park - is being withdrawn on 14th July as not enough passengers are using it to cover the costs.
Speaking about the proposal to cut the 200 service, Cllr Martin Watkins said "Cheshire East's argument is that there are alternatives to this services namely the 378 bus service and rail journeys. The 378 service is about to be withdrawn (on 14th July) and rail services stop at Styal only twice a day. This means that residents of Styal village, visitors to Quarry Bank, staff, visitors and discharged personnel from Styal Prison and all residents of Lacey Green will have no bus service whatsoever."
He added "For the residents of Spath Lane, Handforth the withdrawal of the 378 service means they have to rely solely on the 130 bus route which crosses the top of the estate which is particularly difficult if you are disabled. This service has recently been reduced to an hourly service, does not give access to Wilmslow and Crewe bound rail services at Handforth due to the lack of disabled access nor does it serve Wilmslow station. Residents of Colshaw Farm have already seen a reduction to the Manchester bound 130 service to once an hour either way. Since Stagecoach withdraw their 378 bus service (which D&G did not replicate) which also served Colshaw, bus services have already been reduced by more than 50%.
"Many residents of Colshaw Farm are registered with Handforth doctors. A bus trip to these practises now involves a minimum of a 3 hour journey for what is a distance of 3 miles."
In an attempt to find a solution to the proposed cuts, members of Wilmslow Town Council have met with representatives of Handforth, Styal and Alderley Edge parish councils. One of the options they have been exploring is circular routes which take in as many rail stations, doctors surgeries, schools, shopping centres and employment hubs - which could potentially be subsidised by the support of local businesses who would benefit from it.
Cllr Watkins added "We are of the opinion that bus routes need to meet the needs of the communities who do not necessarily want to travel to Knutsford snd beyond by bus nor to Cheadle or Manchester. We also believe there is a need for very short journeys, almost hop on, hop off.
"We are well used to the saying 'use it or lose it'. We are also familiar with parking problems around Wilmslow. What we are not familiar with is why many of our residents choose not to use a bus when one is available."
Councillors have agreed to seek the views of members of the public in their wards and report back at the July meeting when they will put together a response to Cheshire East Council's proposals.
Cheshire East's consultation closes on Wednesday 26th July. There will be a presentation in Wilmslow library from 2pm on July 3rd.
Cllr Martin Watkins said "These need an input from individuals and organisations as well as councils. Considered and well-argued submissions from Councils will carry considerable weight."
Cllr David Pincombe added "Cheshire East actually said that they don't particularly just want people to write in and say we don't want to lose the bus service, if you can give a reason that it's a necessary service for an individual who is going to be house bound or those who have to rely on social services then that's the type of thing we need to be putting into the consultation documents. So when they review they can pick these items up and if there's X number in particular areas that will carry awful lot of weight."
When asked about how many people use the local bus services, Cllr Pincombe replied "I spoke to the D&G Transport Manager when he advising that he was going to cease the 378 route on 14th July and he indicated to me that currently there are only 55 passengers travelling per day on that bus and that does not cover the cost of his drivers."
He added "That service will cost around £70,000 per annum to maintain."
Cllr Martin Watkins said "The cost is really beyond this council and some of the participating council's around here. I would actually have to seriously question whether it is appropriate that we should even begin to consider those sums of money when it is a so poorly supported bus service."
He added "There were 3700 people sign that petition but 3700 people have not supported the 378 bus service and this is the problem. We need to find out why people choose not to use the bus when they could do so and it would reduce the parking problem in Wilmslow."
The consultation runs until Wednesday 26th July and the public can give their views online and on paper-based surveys which are available at libraries.