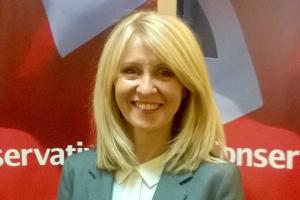 The newly elected MP for Tatton will be in Wilmslow on Saturday, 24th June, to hold an informal drop-in session.
The event is intended to give local residents a chance to meet Esther McVey, their new Member of Parliament, and to raise any local issues they feel are important.
Cllr Angela McPake said "There will also be the opportunity to book an appointment for one of Esther's first surgeries if that is appropriate. It is designed to be a very relaxed occasion and reflects the way the new MP intends to work with local residents."
Esther said "I am obviously delighted to have become the new MP for Tatton and thank local constituents for putting their faith in me. One of my pledges before the election was to be an MP who was active locally and to hold surgeries regularly throughout the whole constituency. That is very much the plan and this drop-in session is just the first step in that process.
"Although I met a number of residents before the election, whether at local events or on the doorstep, this is a great opportunity to meet more people as their new Member of Parliament."
The drop-in session will be held at Sainsbury's on Alderley Road on Saturday 24th June from 11am-1pm.
Photo: Esther McVey MP
Tags: