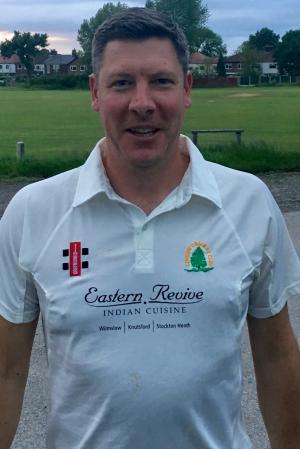 The 1st X1
Lindow won the toss and elected to field on what looked a good pitch considering the amount of rain we have had over the past week away at Northwich. Tim Young and Alex Mathews (3-41) bowled really tight line and length up front making it hard for the home side to score on what was a very slow outfield.
At drinks it was evenly poised at 75-4 when Ben Tyler (2-55) and Ryan O'Brien (3-16) bowled very good areas to the field set reducing Northwich to 146-9 at tea. While having tea the rain came down and didn't stop for a good hour or so meaning Lindow had lost 30 overs. So playing in T20 mode, Lindow went for it early and scoring up with the pace but losing wickets at a fast rate too. it was left for Ian Park and Mathew Ramsden to block out the last 11 overs for the draw.
The 2nd XI
It was a perfunctory win for Lindow 2nd XI, at home to Northwich on Saturday.
After mopping up puddles on the outfield the match started an hour late, but Lindow had still wrapped up the match a long time before tea! Fielding first, Lindow's opening bowlers Tom Rae (who took 3 for 25 from six overs) and stand-in captain Sam Walker (4 for 15 from four) had Northwich in a tizzy. At one point Northwich had lost six wickets for just two runs!
The 3rd XI
After a recovery of sorts, Northwich were dismissed for 44, a target reached by Lindow within six overs of their own innings and for without the loss of any wickets.
Lindow's 3rd XI visited Cheadle Hulme Ladybridge on Sunday and were asked to bat by the hosts after losing the toss. Although play got underway on time, twice proceedings were halted due to heavy downpours, but it was not enough to disturb the rhythm of opening bat, Pete Venables (31) who continued his recent good form. However, wickets fell regularly at the other end although resistance from young Callum Livingston meant that Lindow reached 107 all out on a very sticky wicket.
Lindow bowled well from the off with Paul Wilson picking up two early wickets although Cheadle Hulme Ladybridge were accumulating runs. With the score at 50/2 the match was well balanced but after Ben Gedrodge picked up a vital wicket and Callum Livingston struck with a double-wicket maiden, the pendulum had swung in Lindow's favour.The tight bowling continued and the hosts suffered something of a middle-order collapse with Wilson returning to the attack to pick up two more victims and wrap up victory by 24 runs.
Photo: Paul Wilson who took 4 wickets for Lindow's 3rd XI.
Match report by Angela Yore.
Tags: