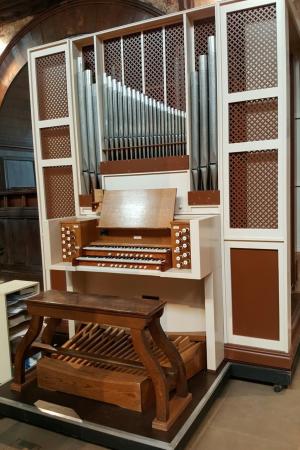 Ozzie the Organ will perform a fun packed programme on Monday 12th June to raise money for East Cheshire Hospice.
The temporary organ at St Bartholomew's Church will perform a programme of music entitled "Don't know your Arne from your Elbow?"
Organist Philip Underwood said "This event is one of several taking place in the church as part of the week long Wilmslow Rocks Festival. The programme begins with "Rule Britannia" by Thomas Arne and concludes with "One Day Like This" by the pop group Elbow. In between there will be spectacular classical pieces by Bach, Widor, and Wagner and classic rock tracks by Michael Jackson, David Bowie and Procul Harum.
Film is also widely represented with themes from the Dam Busters, Star Wars and the Pink Panther amongst others.
Philip added "What better way could there be to shake of those Monday Blues and raise money for a good cause."
Admission Free – retiring collection. Concert commences at 8pm.