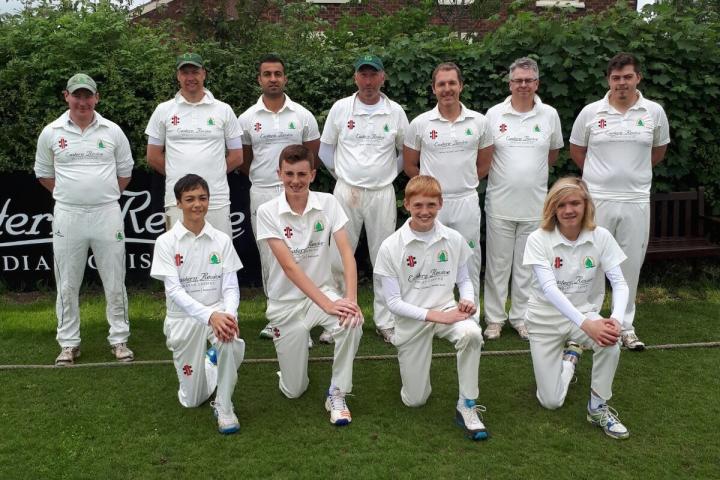 Lindow 1st XI won the local derby against Mobberley by 32 runs
Lindow won the toss on a very good pitch and decided to bat. When the one and only storm came in the 6th over, Lindow were 32 for 2 off 6 in which both openers were out. Lindow continued to score at a good rate whilst losing wickets of Osman Butt (23) and Tom Parfett (27) the main scorers in the Lindow innings. A late flourish from Jahangir Mustaq (21) got the visitors up to 133 in the local derby!
With the game looking a one way affair at tea, Lindow's opening bowlers Tim Young (15-6-36-4) and Alex Mathews (15-6-30-3) came out and bowled very good lines and built up a lot of pressure for the Mobberley batsmen finding themselves 23-5. Abdul Aqeel (31) the main threat for the home side was dismissed by Jahangir Mustaq (5-0-14-1) caught by Luke Unsworth at cover leaving Ben Tyler (6.4-2-11-2) to clean up the tail. Lindow won the local derby by 32 runs!
Lindow 2nd XI strolled to a facile win over Middlewich, with the eventual margin of victory a huge 173 runs.
Matt Ramsden was the undoubted Man of the Match, opening the innings with the bat and scoring 76 before bowling his beguiling leg spin and claiming five wickets for just 18 runs.
It wasn't a one man show, however. Batting first and declaring on 226-3, Jimmy Bracewell hit a composed 52 and Dan Braddock played some fine shots in his 35. Bowling Middlewich out for just 52, opening fast bowler Sam Walker took two wickets in five overs whilst conceding just six runs and Mushy Ahmed took 2-13 to round off a fine team performance.
The crowds were out in force for Lindow's 3rd XI
The decking area was packed and the atmosphere was electric for Wilmslow Derby on Sunday. Wilmslow won the toss on a glorious afternoon and batted first on a good looking pitch. Despite starting slowly it wasn't until drinks were imminent that the first wicket fell when Gedrodge removed the dogged Les Hart thanks to a smart catch by 3rd XI debutant Ian Park. Runs proved difficult to come by until Malik smashed 42 off very few balls before James Venables caught him with a stunning one-handed diving catch. Wilmslow then accumulated runs steadily but Calum Livingstone, Rowan Day and son Joe kept runs tight. Wilmslow finished on 147-7.
In reply Max Espley and Pete Venables started at a cracking rate putting on over 70 for the first wicket. Unfortunately Max fell for 37, whereupon Ian Park came to the crease and the tempo didn't stop!
'Mr. 50' Venables brought up his first half century of the season and Lindow wrapped up the game with no further wickets loss and with 13 overs to spare.
Photo: Third XI at Lindow CC.
Match report by
Tags: