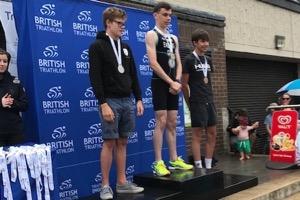 Triathlete Matthew Braybrooke travelled to Glasgow on Saturday, 29th May, to compete in the British National Sprint Triathlon Championships.
The 17 year old from Wilmslow competed over a 750m open water swim, 20k bike race and 5k run, completing the course in 1hr 3mins to secure second in the Under 20 age category.
Matthew finished just 6 seconds behind the winner and finished in 10th place overall against 500 other competitor's across all age groups.
This success means he has qualified for the 2018 European Championships but the next stop for Mathew is the English National Championships in London and qualification to this year's World Championships.
Tags: