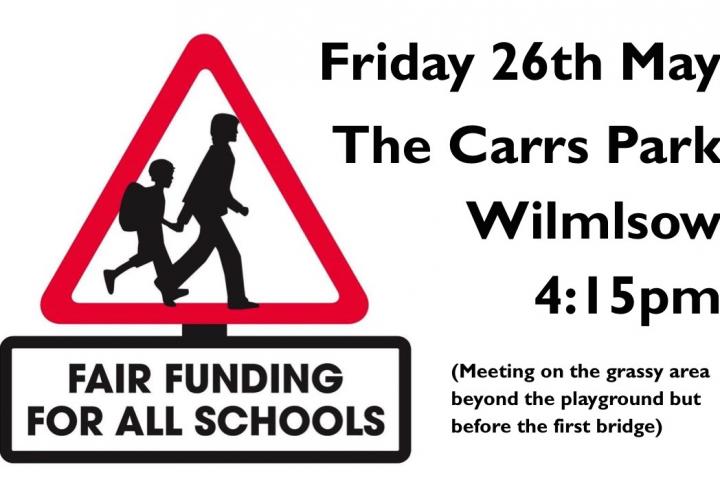 Parents and school community members are holding a 'picnic in the park' sit-down protest against the government's proposed school budget cuts.
Fair Funding for Schools, a parent-led group, will be gathering for a picnic in Wilmslow's Carrs Park at 4:15pm on Friday, 26th May. They are encouraging local parents to bring a picnic and sit with their school and make a placard with a creative slogan.
Ms Clare Daniel, Headteacher at St Anne's Fulshaw CE Primary School, said "Parents from Cheshire East have already been highly engaged with the Fair Funding campaign from the very beginning, with 5% of all the national funding formula consultation responses coming from Cheshire East. Parents, pupils, governors and staff have also taken part in marches and protests in Nantwich, Sandbach, Chester and even Manchester. Clearly parents are aware that Cheshire has been one of the poorest funded authorities for many years, and the initial national funding formula proposals would have seen us right at the bottom of the funding pile, hence the vocal response.
"We had already planned a picnic in the park at The Carrs between 4.15pm and 4.45pm on Friday 26th May, however after the terrible events in Manchester on Monday evening, election campaigning was suspended and this included associated Fair Funding events such as our picnic. Campaigning is due to start again tomorrow and so many of the events that had been planned, then suspended, are now taking place again.
"The tragedy in Manchester has obviously cast a long shadow over us all. We have spent much time over the last three days debating whether it was appropriate to proceed, however we have agreed that we should. This will enable our community to come together, both as symbolic support for those affected by the bombing, and also to enable those parents who have been so engaged with the funding formula consultation and also with other marches and protests to express their support for the Fair Funding Campaign in their own locality."
Ms Daniel added "Our event is politically neutral, in line with the other Fair Funding events around the country, with the focus being on all the amazing things our schools offer which could be at risk should school funding cuts not be adequately addressed by whichever party is in power post-election. It will be a very informal community get-together, and will open with a minute's silence to remember all those whose lives have been affected by the bombing this week, followed by a few speakers. At 4.45pm we will walk into the centre of Wilmslow after which we will begin a much needed half term break.
"Everybody is very welcome, those from schools in our local area and beyond if they are able to make it. Those attending are welcome to bring a picnic, a placard or banner and some sun cream as the weather forecast is super!"
Protestors will be meeting on the grassy area beyond the playground, before the first bridge, in The Carrs at 4.15pm on Friday, 26th May.
Tags: