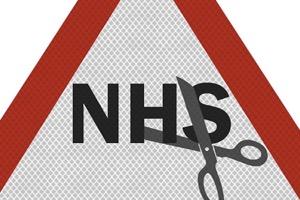 With a predicted overspend running into tens of millions of pounds, NHS England have called in the auditors to assess spending at NHS Eastern Cheshire Clinical Commissioning Group - which is responsible for planning, buying and monitoring healthcare services in.
Local GPs are concerned that Deloitte may force through more cuts to what they say is an already woefully underfunded but extremely efficient East Cheshire Health Economy.
Therefore, with the impeding General Election on June 8th, doctors are calling on the residents of East Cheshire to hold their politicians to account and win a fairer deal for their local NHS services which they state have been chronically underfunded by successive governments for decades.
The GPs of Chelford, Handforth, Alderley Edge and Wilmslow, Knutsford, Bollington, Poynton, Disley, Congleton, Holmes Chapel and Macclesfield say the NHS is slowly imploding and they are fighting for survival.
In order to let patients know about "the growing threat to their local health services" local NHS GP surgeries have set up a website and they are asking all residents to write to all their prospective parliamentary candidates, asking them what they will do to ensure that the area's NHS services are funded adequately and fairly and to ensure that funding formulae stop discriminating against the taxpayers of Cheshire East.
A local GP, who wished to remain anonymous, told wilmslow.co.uk "All GPs across East Cheshire, from Disley to Knutsford and from Handforth to Congleton, are solidly behind the NHSSOS.Org.UK site. For far too long, residents in East Cheshire have been short-changed when it comes to NHS funding. Just take a look at the site and the figures it quotes from official NHS data. The funding is grossly unfair. A taxpayer in East Cheshire receives MUCH less NHS funding than a taxpayer elsewhere, despite on average being older and more in need of healthcare.
"Despite making huge efficiency savings over the years and outperforming most other areas of the country in terms of keeping people out of hospital and keeping people healthier for longer, this chronically underfunded area is being lined up for massive cuts.
"The fat has already been cut. That can only be bad for patient care. The area is one of 11 health economies in the UK where the auditors have been called in to assess the finances."
"Residents of East Cheshire need to be aware of this and to be prepared for significant cuts to services in the coming months if the current funding allocation is allowed to continue."
"We would ask all residents to lobby their local parliamentary candidates and make them aware of the looming threat to NHS services across the area."
He added "The CCG has been forced to stop funding St Annes's Hospice and East Cheshire Trust has already closed down X-Ray facilities in Handforth."
If nothing changes, GPs say the future for local NHS Services will be longer waiting times to see a GP and nurse, longer hospital waiting times, limits to what your doctor can prescribe you and longer wait times to get scans, blood tests, a diagnosis and hospital treatment.
Additionally they predict the future could see the closure of your local GP surgery or a severe reduction in the services they offer, loss of community clinics and services, greater travelling times to hospitals in other areas and they may introduce charges like paying to see your GP!
For more information visit www.nhssos.org.uk.