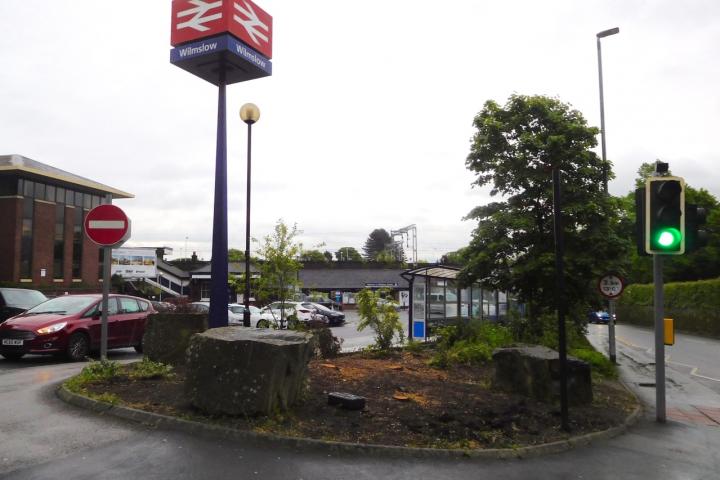 Wilmslow Town Council has agreed to allocate funds in order to enhance what is considered an important gateway to the town and give a good impression to people both coming to and leaving Wilmslow.
At their meeting on Monday, 15th May, councillors approved the expenditure of up to £2000 to refurbish and maintain a shrub bed which is located at the entrance to the railway station.
In 2013 and 2014 Wilmslow Town Council undertook to refurbish part of the Wilmslow Station bed which runs along station road, near the advertising hoardings which was owned by Chehsire East Council.
Town Clerk Matthew Jackson explained "At the time we ripped a number of trees out, we tidied the area up and we invested about £2700 in replanting and making good that order. It looks far better now than it ever looked before and that's due to the work we undertook and also the maintenance we have continued to do on that piece of land.
"When we did that we did it at entirely the Town Council's expense feeling that it was an important part of the town, a gateway to the town, and we needed to enhance it.
"At that time nothing happened with the other half of the bed, which is arguably the more important half because it is the most visual part of the bed. It runs from the steps, which are half way from the car park entrance half way down to the railway bridge, to the entrance into the car park itself. That was owned by the Network Rail, or whatever guise that particular franchise was in at the time, and nothing every happened with it being in different ownership and its been something which has been on our minds for some time."
A previous station manager has recently returned to Wilmslow so Matthew Jackson took the opportunity to meet with her to see if there was anything that could be done to improve the area. As a result of the meeting Northern Rail have given permission for work to be undertaken on that piece of land and agreed to make a financial contribution of £500 towards a project to improve that particular bed.
Cllr Joan Fitzgerald said "I feel it needs a complete redoing so it is a noticeable entrance into the town and exit from the station. I am sure it would be very much appreciated by the people of Wilmslow if we did enhance the driveway to the station."
Cllr Angela McPake added "I feel it would be a valuable use of our funds."