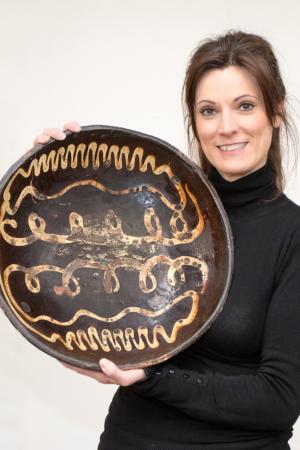 An antiques valuation day held in Wilmslow to raise funds for Francis House Children's Hospice has turned up some rare finds.
Fine arts expert Adrian Rathbone was delighted to uncover a Staffordshire slipware charger, one of the earliest types of primitive pottery before porcelain, which was brought in by a local resident who had inherited it.
Adrian said: "It's very rare to find a piece like this outside of a museum. The charger dates from around 1720 and will no doubt appeal to connoisseurs as an academic piece of historical importance."
The charger could fetch between £1,500 and £2,000 and will go into a fine arts auction on June 30th.
Also of interest were a number of antique silver pieces including a large entrée dish from the early 19th century.
Adrian said "It is very rare to find an entrée dish in solid silver, they are normally plated. I've only seen a few in my career. The owner felt it was time for the items to find a new home and was curious about their value." The dish was valued at around £1,500.
Anyone keen to know the value of their prized heirlooms can go along for a free valuation in return for a donation to Francis House. The next valuation day is being held at The Coach & Four on Thursday, May 18th between 11 am and 2pm.
Photo: Helen Smith from Hansons with the Staffordshire slipware charger.
Tags: