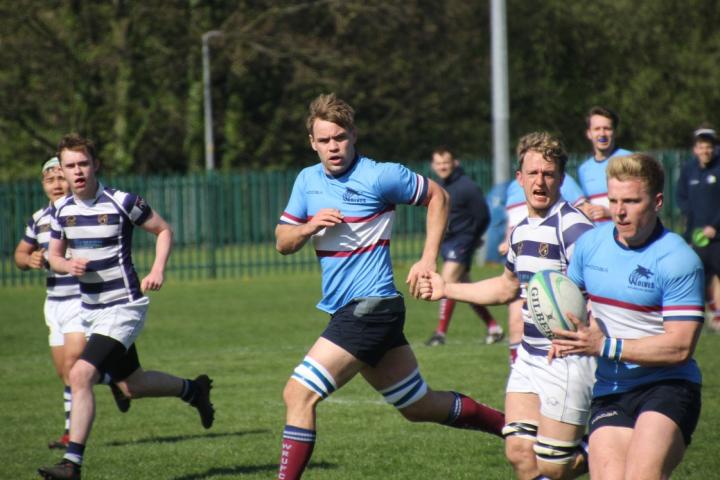 Saturday 22nd. April 2017
North 1 West
Eccles 15 – 56 Wilmslow
The Wolves put their run of three successive losses behind them in this closing match of the season and enjoyed a ten try 'fest' against the league's basement boys. It left the Wolves with an identical eighteen wins from twenty six matches as they achieved last season and a fourth place finish behind Kirkby Lonsdale, Birkenhead Park and Northwich. Their captain Bob MacCallum achieved a personal milestone and almost certainly a new club record in his fifteenth season at the club by playing, in his own words, every single minute in every single game.
That'll keep the club's enthusiastic archivist Barry Fisher busy during the summer researching whether any past player can equal that record. He'll no doubt be quick to point out that in the old days when there were many more matches that MacCallum's twenty seven appearances, including one Cheshire Vase match, were exceeded but to play in every match of a season, I would think, will not have been equalled.
Coach Rick Jones was pleased that it ended with a display of positive, if somewhat carefree, attacking rugby and he kept his own personal record of having played competitive rugby for twenty five continuous seasons alive by coming on as a late substitute. He may have found the pace of the pace game a bit faster than it looked from the touchline and that they don't now make the jerseys as big as they used to in his heyday.
Eccles have had a rotten season, firstly losing many of the players, through retirement and departure, that got them to this level three years ago and having to introduce so many inexperienced youngsters at once. It showed as the Wolves were far quicker to the breakdown, more aggressive in their tackling, dominant in the set piece and, yes, despite their shortcomings, less likely to cough up the ball in contact. Eccles face a period of rebuilding but they're a well established club in their part of Manchester, have decent facilities and we can be certain will be back again at this level.
The Wolves started the game on a sunny spring afternoon playing into a stiff breeze coming in from the West. They didn't let that worry them as they ran in six first half tries, many of them originating from turnovers and counter attacks from their own half. Ben Day and Nick Barker, what a shame he doesn't play regularly, in the back three were lethal with any loose ball and there was plenty of that coming their way. No. 8 Alex Taylor, the season's leading try scorer, went over for the first score from the front of a five yard line out in the first minute and scores followed at regular intervals from Max Harvey, Caleb Loomans, the veteran Rick Hughes, Nick Barker and Adam Hewitt, all of them brushing off some half hearted tackling from the home side. Eccles actually had their fair share of territory during this period but they lacked any cutting edge in or around the Wilmslow twenty two and it was too easy for Ms. Harvey, Taylor et al to strip them of the ball. Possession of the ball in rugby is precious and you can't afford to be profligate with it. Too add to Eccles's discomfort, Wolves props Robert Taylor and Jonny Evans were masters of the set piece, frequently having their opponents marching backwards at quick pace.
It was 32 – 3 at half time and with the wind behind them a massacre by the Wolves threatened. They would surely have scored more than four tries through Lewis Bundy-Davies, Alex Donaldson, Connor Loomans and Nick Barker in this period if they hadn't resorted to trying to spray the ball around like Fijians. They're not Fijians, they don't look like them and most certainly they don't possess the sort of running and handling skills that the Pacific Islanders have. The home side were able to counter from loose ball at the restart and an interception to score two consolation tries through substitute Stuart Grieves and winger Will Parkinson.
Later on as players from all three senior sides and their supporters wound the season down together in their convivial clubhouse bar, the talk turned to next season. The Wolves have three quarters of a side capable of winning this league and if they could get everyone fully fit, not least to avoid the kind of debilitating injuries that have cost them dear in the last couple of months, they'd be in with a real shout. The pack has been outstanding this season but they'll have to find replacements for London bound Mike Black and Max Harvey. No less a judge than David Barker rates Harvey as an outstanding prospect, who should challenge himself with at least a Level 3 London club. Maybe he should contact former Wilmslow No. 8 and Oxford Blue, Chris Davies, now No. 8 at Richmond, to check out opportunities there. The Wolves' backs too need some extra gas to become a real threat again but it's tinkering and some additional strength in depth, not wholesale demolition and reconstruction, that's needed.
The Vikings by beating Stockport's second team retained their place in the Cotton Traders League. Let's hope that their new captain Adam Taher will be able to galvanise them next season into a real competitive force at this level. It'll be tough but if the players put in the effort on the training paddock and show the desire, they can avoid some of the heavy early season defeats inflicted on them this time round.
Photo: Back row forwards in concert, Max Harvey with ball and Tom Bull alongside him.
Match report by David Pike.
Tags: