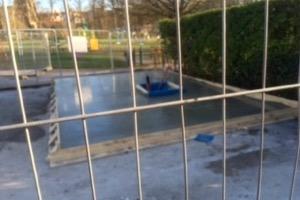 Groundworks to accommodate the new public toilet block at the Carrs got well underway last month, however technical issues have caused a delay with the project.
Whilst they weren't necessarily expecting the toilets to be plumbed in and have power at this stage, the Town Council had been hoping to have a toilet block in the car park by now.
Speaking at the Town Council meeting on Tuesday, 18th April, Town Clerk Matthew Jackson said "There was something of a technical problem last week with the toilet block which resulted in the concrete having to be reset which didn't take place until Thursday of last week which meant the toilet block couldn't go in last week because it would have sunk.
"So there has been a slight delay. I don't think it is going to be a hugely significant delay but it has clearly put some doubt on whether we will have a toilet for May Day Bank Holiday and I suspect we probably won't.
"We're now expecting the building to arrive this time next week and there's a bit of extra work to be done when it gets here but this was something of a technical engineer's issue with the exact height of the concrete so that's put things back slightly - but let's face it it has been a bit if a saga from start to finish."
The building, which has already been manufactured off-site, will contain one unisex toilet and one disabled toilet and be located in the corner of the car park - replacing three parking spaces.
Wilmslow Town Council have signed a 30 year lease with Cheshire East Council for this section of the car park in return for £1 and a peppercorn rent.
The toilet block will be equipped with cctv to all elevations and includes a refreshment kiosk which, as well to providing an additional facility for park users, will generate an income which the Town Council will use to help cover ongoing costs.
Wilmslow Town Council confirmed they have a number of parties interested in running the kiosk but they each need to see the building.
Matthew Jackson said "There has been a lot of interest in it but it will not open as a kiosk at the time that it opens as a toilet block. The toilets will be open before the kiosk because we'll need to go through that phase but I am sure all the applicants will be keen to get underway as soon as possible as they won't want to miss the summer season."
The semi-automatic toilets will be open from 8am to 6pm daily and the use of the toilets will cost 20p, which will also be used towards cleaning and maintenance costs.
The overall cost of the project is in the region of £108,000, £30,000 of which has come from section 106 monies passed over by Cheshire East Council and Wilmslow Town Council are covering the rest.
Tags: