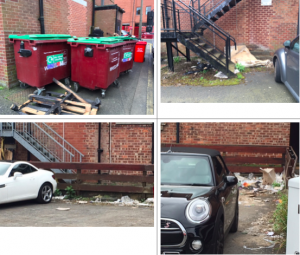 Having appointed a handyman on an initial trial basis Wilmslow Town Council has reviewed the work carried out to date and considered fully implementing the service.
Up until the end of March, the handyman was working for the Town Council one day a fortnight but from the start of this month it has changed so he has been working one day a week, normally on a Wednesday.
Town Clerk Matthew Jackson reported back to members of the town council on the types of things he has been doing and the benefits they have seen from it with a view of them deciding to make the arrangements more permanent.
The completed work includes cleaning road signs, which a number of people raised as being an issue, removing leaves and debris from Twinnies Bridge car park, cutting back foliage to widen footpaths and edging the grass (i.e. going down to Royal London and from Hoopers down to Costa Coffee), weeding around the town (including Grove Street, part of Alderley Road and Water Lane).
Matthew Jackson said "Some of these are areas which have been identified by residents as 'grot spots' which he has gone to and been able to deal with directly. On a number of occasions he has been able to deal with them on the day the actual comment as come in."
Quite a few residents contacted Wilmslow Town Council after I published an article on wilmslow.co.uk last month asking for local residents to help identify jobs the handyman could do to improve the appearance of the town centre.
Matthew added "One of the grot spots identified was the rear of Grove Street, known as Grove Way, so he went there and did some weeding but what he actually did was identify the fact that it was primarily the actual private land of the businesses of Grove Street so following that we've actually written to all the businesses down that side of Grove Street asking them to have a look of the rear of the premises and taking action in terms of tidying those up."
The handyman has also been litter picking, focussing on areas not done by the Clean Team, which included removing three bags from the paths between the station and High School.
Matthew said "I am delighted by the work he has done so far. He's very proactive at not only getting on with the job but also helping to identify some of the areas needs doing as well. Certainly my recommendation would be that the committee move this from being a trial basis to more of a long term project."
Town Councillors all voted in favour of extending the arrangement until March 2018, the end of the next Council year.
To highlight public space maintenance issues email the Town Clerk or phone the Town Council office (01625 402907) so that a proactive approach can be taken in trying to improve streetscene maintenance issues.
Photos: The back of businesses on Grove Way.
Tags: