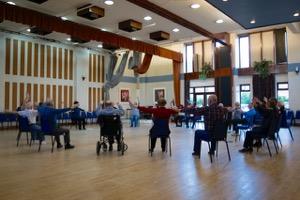 New classes inspired by ballet are now available in Wilmslow for residents suffering from Parkinson's, Dementia, Arthritis, MS or any other condition that affects their mobility.
The Dancing Chairs Project, which is dedicated to encouraging steps towards inspired movement regardless of health condition, has teamed up with My Life Living Assistance to offer bespoke dance classes aimed at improving balance, mood and coordination.
Catherine Chanoux said "Our activities started last September when the Trafford branch of Parkinson's UK employed us to run the ballet inspired classes for people living with the condition. It all started with The Nutcracker but quite soon we realised we want to explore other musical domains - an area reaching not only beyond ballet as a dance form but also as a musical sphere; we've reached for music of Eric Satie, Arvo Part, Dead Can Dance.
"We started introducing other classical pieces and designed exercises that verge on dance theatre and contemporary dance forms that could benefit people who need rhythm and tone to reconnect with their otherwise relatively uncoordinated bodies.
"We swiftly learned that music benefits people tremendously and that baring in mind the health and safety limitations that Parkinson's involves, we can enhance people's coordination and moods. That's the least we can do to make them feel better and learn how to have quality of live despite their predicament."
There is no need to book, admission is free and carers are welcome. The classes take place at Dean Row Village Hall on Brown's Lane, Wilmslow, SK9 2BR on Fridays at 11.15am.
For more information email Catherine Chanoux or call 075482 35636.