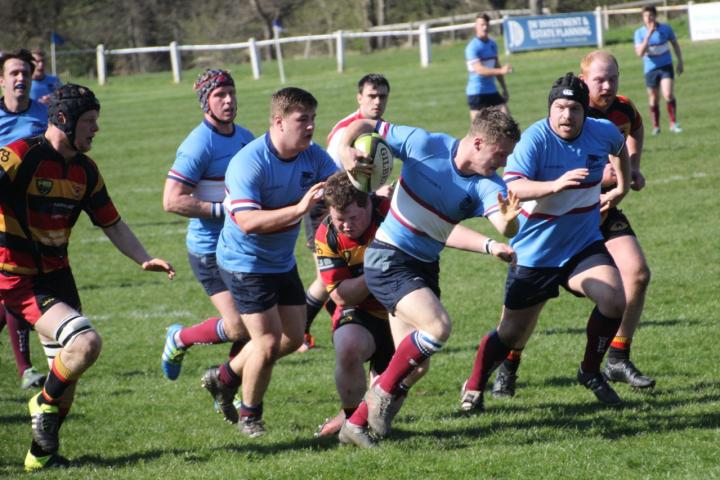 Saturday 8th. April 2017
North 1 West
Wilmslow 12 – 45 Kirkby Lonsdale
The scoreboard would tell you that the Wolves crashed heavily to their third successive defeat, this time against the run-a-away league champions from Kirkby Lonsdale. In the end, they did, of course, but the scoreboard wouldn't tell you that for sixty minutes this game had been a real contest.
The first critical moment came as half time approached. The Wolves were laying siege to the Kirkby Lonsdale line. Twice in as many minutes, they'd been held up on the line but when they came from a five yard scrum for a third time, they dropped the ball and it was seized upon by Kirkby winger Harry Huddleston, who ran the full length of the field to score under the posts. Instead of it being fourteen apiece at the interval, it was 7 – 21 for the visitors. Even then, the Wolves created a try for Caleb Loomans just after half time. The 12 – 21 deficit looked manageable and for a while the Wolves gave as good as they got. But it all changed when their most potent attacking force, scrum half Sean Street, had to leave the pitch injured and Ollie Wilkinson moved up from full back to the No. 9 slot.
Wilkinson has plenty of experience at No. 9 and is a tidy enough player but he's not the threat that Street is in keeping the opposition back row defence occupied. More misery was soon to follow when he had a pass intercepted by Kirkby scrum half Ben Walker on half way, who then galloped away for Kirkby's fourth try. 12 – 28 was a long way to come back. Wolves No. 8 Alex Taylor had a perfectly good touch minutes later down from a catch and drive soon after ruled out by an unsighted referee and as the Wolves tried to chase the game in the closing fifteen minutes, they were brutally punished for any error or misjudgement as they conceded a further three tries.
Not many had expected the Wolves to be the first of the season stop this Kirkby Lonsdale outfit, who showed exactly why they've won this league in a canter. In Ben Walker and Dave Barton, they have the stand out half backs in the league. Behind them is a back division which bristles with danger in every position. Quick hands, pace, an eye for an opening, positive running off the ball and full of confidence, they have it all. Up front their pack is possibly not just as dominant but they're no mugs either. The Wolves didn't get any change out of them overall in either in the set piece or in the lineout. Their whole side has just trained and worked harder all season than their opponents and the result has been a very fit side, capable of playing at pace and suffering few of the debilitating injuries that have so hampered Wilmslow and other sides during the season. They are creative, patient, cute enough to know how and when to slow the game down and how they make you pay if you make the slightest mistake. We shall watch their progress at Level 5 next season with interest.
Hope though springs eternal and after fending off Kirkby's initial thrusts, the Wolves were the first to show when the Kiwi centre Caleb Loomans, having his best game yet in a Wilmslow jersey, broke the Kirkby defensive line and was tackled just short. This was followed by a fierce counter ruck from the Wolves and Street, showing a delightful change of pace to wrong foot the defence, slipped the ball to Bob MacCallum, who opened the scoring after 10 minutes.
Kirkby responded with a free flowing passage of rugby which ended with second row Matt Hughes being up to take the final scoring pass. From the restart, Walker then made a typical break and crisp passing put centre Harry Ralston in for their second try.
Wilmslow then had to defend a lineout on their own line arising from a perfectly placed kick by Kirkby centre Tom Pickthall. They did this well, managed to get the ball down the field and engineered several opportunities but more than once the accuracy to make the final pass count was missing and then came Huddleston's try.
A Wolves scrum was getting shunted off the ball by the Kirkby eight at the start of the second half but was rescued by a pick up by No. 8 Taylor. With the opposition back row still bound in he made good ground, offloaded to Street, who found MacCallum outside him. Ethan Harding then put Loomans in for a well executed Wolves second try. For a while it was game on but Walker's interception and try was a hammer blow. As the game progressed it became clear that the Wolves just didn't possess the pace and finesse to break down the KL defence.
Taylor was unlucky from a catch and drive, flanker Max Harvey was conspicuously in the thick of it but hard as the Wolves tried to salvage the game, it was Kirkby who were lethal in capitalising on any slight mistake by breaking away for three late scores. It was the Wilmslow bludgeon against the Kirkby rapier and it was the rapier which won.
Nevertheless, Rick Jones was pleased that his charges had set out to play positive attacking rugby and had put in a 'performance'. At times had looked very good but they were up against a very good Kirkby Lonsdale side, who just punished any mistake or misjudgement. May be the final scoreboard was a bit hard on the Wolves but there was no doubting their opponents' potency.
Kirkby Lonsdale now just have Blackburn to play at home and a win would give them a perfect twenty six wins from twenty six. Ironically, that still won't be the best record in the land which looks likely to go to Huddersfield, bound for National 2 North next season.
Wilmslow have their last game at relegated Eccles in a fortnight. If they can finish with a win, they will equal last season's eighteen wins.
Photo: Centre Caleb Loomans on the attack.
Match report by David Pike.
Tags: