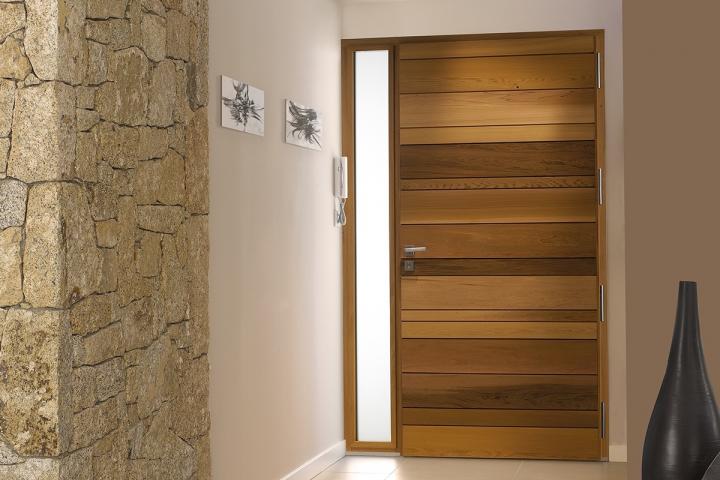 Promotional Feature
The latest range in Spitfire Doors ever growing series of residential entrance doors, the S-400 timber fusion range combines the sheer beauty and elegance of natural red cedar with a uniquely thermally efficient internal construction.
For those who love the beauty of natural materials (and who doesn't?), Spitfire's new S-400 range really is the obvious choice. The specially designed outerface of each door is solidly constructed from West Canadian red cedar (also known as 'thuja plicata'), a species justly renowned for the exceptional beauty of its grain, its rarity and great durability.
Secure and soundproof, our door leaf is a substantial 94mm thick constructed of solid red cedar, fibre-board for acoustic insulation and high insulation foam for thermal efficiency, with a thermally broken low threshold at 20mm high.
With its security barrel and multipoint locks, the S-400 range doesn't just look great; it helps keep you safe too. There's a wide choice of state-of-the-art, discreetly integrated security options for biometric and keyless entry with simply a waft of your hand over the sensor, an automatic keyfob opening or fingerprint recognition (capable of storing up to 100 impressions) and, of course, a physical key for manual override.
The unique construction method provides you with a door that is not only incredibly stable but also offers remarkable thermal qualities and performance with a U value of 0.77 W/m2K, lower even than the most Passiv Haus standards!
Our S-400 range is focused on minimal environmental impact and shielding you from high running costs, so you'll not only be protecting the environment, but your pocket too.
For more information about making a truly grand entrance with the S-400 series, please visit www.spitfiredoors.co.uk.
Tags: