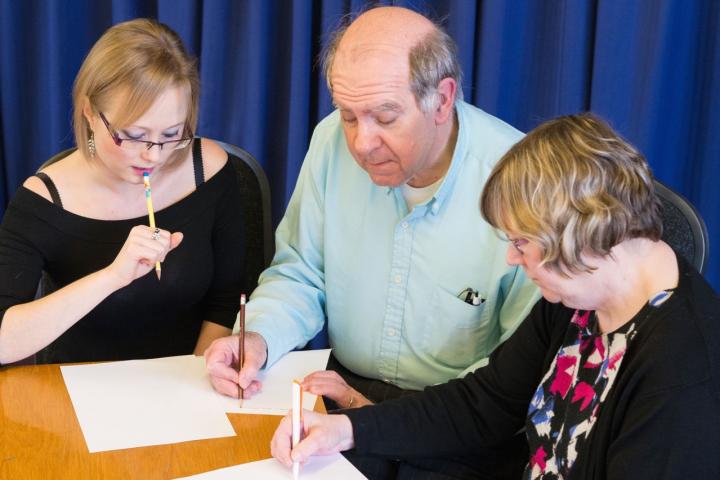 Wilmslow Guild Players' next production 'Improbable Fiction', by the hugely popular playwright Alan Ayckbourn. will run from 5th to 8th April at Wilmslow Guild.
The play is set at Pendon Writers' Circle, a self-help group for the creatively stalled and artistically deluded, who are having collective writers' block. However, the presence of a rather ordinary young girl unleashes their imaginations - with surprising results. A wide range of bewildering characters keep the main character Arnold on his toes throughout, with hilarious moments aplenty in this Ayckbourn roller-coaster of a play.
Director Jon Beagles said "Having appeared in this play with Sheffield's Midland Players back in 2010 I was very familiar with the script. I found this one of the most brilliant and authentically funny acting challenges I had ever undertaken. As such this was my first choice of play when the Guild Players asked me to direct again (after working on Bunkered in 2016), despite its many intricacies and problematic scenes."
He continued "In my opinion this play encapsulates everything that's great about seeing a play on stage. You have character development, elements of farce, great word-play and multiple plot twists that will keep the audience guessing until the end."
The cast is made up of a core group of Guild Players regulars (Owen Le Blanc, Sue Chadwick, Caroline Lucas, Michele Eaton, Tim Strang), alongside two guest actors. John Banks is returning to the Guild stage after a three year hiatus and Rachael Barker is making her acting debut.
Jon said "Rehearsals have been a very funny experience. Often the biggest challenges is to stop yourself laughing too much at Caroline's fantastic American accent, John's acerbic wit or Michele's sarcastic asides."
Ticket secretary Bill Beton said "Tickets are selling extremely well for this production. Alan Ayckbourn is one of the nation's favourite playwrights. Tickets do kind of sell themselves – I would strongly advise people to book early to get the best seats and not leave it to the week of the show."
Jon added "People should come to see this play if they want to see a clever and funny production, which is unlike any other play they will see this year. "In terms of what to expect...'the unexpected' springs to mind!. This play will keep you guessing until the end, and laughing throughout - particularly in the second act."
'Improbable Fiction' runs from 5th to 8th April at Wilmslow Guild on Bourne Street. Tickets cost £7.50 and can be booked online at www.wgp.org.uk (there are no booking fees for booking online). Alternatively tickets can be booked by calling 01625 520126 or emailing tickets@wgp.org.uk.
Photo: Writers' block: Rachael Barker (left), Owen Le Blanc and Caroline Lucas in rehearsal for Improbable Fiction.
Tags: