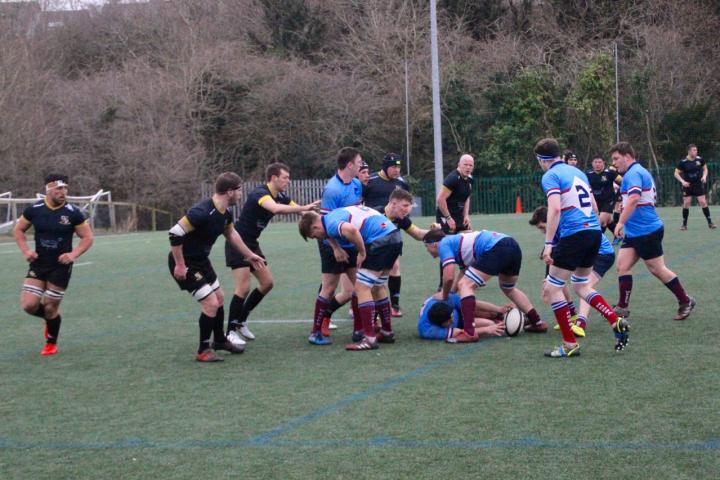 Saturday 11th. March 2017
North 1 West
Burnage 6 – 13 Wilmslow
As full time approached, this undistinguished match on the Varley Park G3 pitch looked to be fizzling out as a 6 – 6 draw, until Wolves scrum half Sean Street, hereafter to be known as Burglar Bill, intervened with an audacious piece of grand larceny to give them an unexpected win and to enable them to walk off with four more league points.
Burnage had just tied things up with a second Rhys Evans penalty after Wolves No. 8 Alex Taylor was adjudged guilty of a high tackle around the neck. From the touchline it had looked pretty innocuous and if he had caught an opponent high, it was only because the Burnage player was ducking and weaving to avoid Taylor's tackle.
Earlier in the season play would just have carried on but under the new regulations, referee Lewis decided he had to award a penalty. At two penalties apiece, most people present would have thought a draw would have been fair enough. Bob MacCallum then put in a high teasing kick at the restart which was gathered in by first up lock Loui Staples. He went to ground in a pile up and from the ensuing scrum MacCallum shaped to drop a goal but he took his eye off the ball from scrum half Sean Street's pass, knocked on and the chance was gone. Burnage were awarded a scrum. Their set piece had been rock solid all afternoon but as their No. 8 Ralph Lawson passed to his scrum half Jordan Chappell, the ball was picked off by Street and with no-one at home he just waltzed in from 20 metres or so for the Wolves winning score. It was a piece of robbery or mugging, describe it as you will, of the highest order.
It was also tough on the home side, which had mostly had the better of the argument in the lineout and set piece, especially after Wolves tight head Robert Taylor had to leave the field with a recurrence of a shoulder injury. But they hadn't been able to convert this into any overwhelming territorial advantage or to break down a resilient Wilmslow defence. A handful of opportunities went begging and two first half penalty misses were to later prove costly.
Once again, the Wolves management had had to work overtime to get their team organised. At least three of last week's players were still carrying dead legs and Adam Hewitt, the main man in the lineout, had to withdraw on the advice of his dentist after he'd got clobbered in the mouth at Thursday night training.
The thoroughness of team manager Mike Blackett in keeping eligible but not always available players on his radar paid off once again. Nick Barker, a true sporting Corinthian, made himself available in his club's hour of need. He came on as a substitute in three positions, full back, winger and centre and made two try saving tackles at a critical time in the second half, when a score from the home team would in all probability have won it for them. Student Loui Staples, a Wilmslow boy through and through, came back from his university and played an influential game. Matt Shufflebottom also put in a good shift. Ollie Wilkinson came in at fullback and newcomers, Caleb Loomans, Ed Barry and Jack Hogan did everything that was asked of them.
The spirit and commitment of all the players to the cause could never be doubted. As coach Rick Jones said afterwards, 'It was almost a scratch side we had to put out, a lot of them were out of position but the way they played for each other and stuck to their task, I'll accept that any day'. It wasn't pretty, there were plenty of errors but it just showed how much that the personal qualities of spirit, effort, grit and commitment can take you. And, of course, it was a captain's performance from Bob MacCallum, who did everything he knew to keep the Wolves in the game both on and off the ball. The Taylor brothers once again were immense. It might have been a bit of opportunism that won it in the end but you know, said Jones, 'I think we deserved it for the way we took the game to them in the second half and for the way we refused to buckle when the force was with the home side.'
MacCallum kicked his first penalty after just a minute's play and then from the restart the Wolves infringed and Rhys Evans answered in kind. For the next fifteen minutes, most of the attacking play came from the Wolves but they were careless in looking after the ball and opportunities went awry as several lineouts in promising positions were lost.
The pendulum then turned and for the next fifteen minutes, Burnage, helped by a surfeit of penalties in their favour, at one stage the penalty count was nine to two, got close on several occasions. Street got yellow carded and Burnage's Evans missed a couple of very kickable looking shots at goal. The Wolves though weathered the storm and as half time approached broke out to win two penalties, the second of which MacCallum slotted to give them a slightly fortuitous 6-3 advantage at half time.
There was little to choose between the two sides during the second period. Both had their moments but if Burnage did manage to break the defensive line on a couple of occasions and to create the slightly better scoring chances, they still couldn't find a way past the Wolves covering defence.
In response, MacCallum had a pair of penalty chances in the third quarter, both at the edge of his range, which went wide. He certainly paid his part in orchestrating events, quickly moving the ball whenever he could to open up play but to no avail. The nearest the Wolves came to a try was when Street found a bit of space but his delicate chip over the defence refused to bounce for him. And then finally there was his High Street Robbery in the penultimate play of the game.
Jones now has a fortnight to get the limp and the lame ready for the visit of fourth placed Northwich to the Memorial Ground. The Wolves stay third in the table and with four games to go can't finish lower than fourth. Kirkby Lonsdale in demolishing Eccles are now out of sight at the top and are to be congratulated on winning the league with four games still to go. They have twenty two wins out of twenty two played and have dropped only one bonus point all season. Second placed Birkenhead Park were well beaten at Northwich so intriguingly one dares to wonder whether the play off spot is to become a three horse race between these two and Wilmslow.
Wilmslow v Northwich in a fortnight at the Memorial Ground now takes on a new season defining complexion. Nothing at stake, who are you kidding?
Photo: Alex Donaldson lays the ball back at the breakdown.
Match report by David Pike.
Tags: