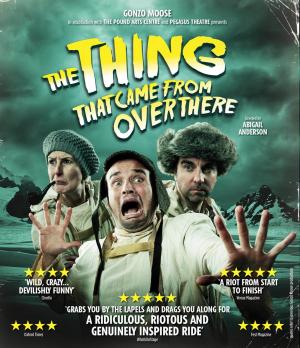 Wilmslow Library will be hosting a comedy theatre performance of 'The Thing That Came From Over There!' by Gonzo Moose next month.
The critically acclaimed trio are performing a fast paced comedy adventure inspired by the horror movies of the 1950's and suitable for age 8 and over.
It's 1912, and as Scott and Amundsen begin their race across Antarctica, the hapless explorer, Captain Reginald Cranston, has accidentally landed on the wrong side of the continent.
As Cranston and his motley band set up base camp, a meteor crashes nearby. Deciding to investigate, they set out towards the crash site – unaware of the danger that awaits not just them, but the whole of planet Earth.
Librarian Emily Morrey said "Join three daring actors as they play over 15 roles in 75 minutes of shocks, spine tingling silliness, and blood curdling terror.
"With comedy and thrills galore, the show features visual gags, verbal wit, giant puppetry, and even a little bit of live music."
Gonzo Moose will perform The Thing That Came From Over There! at Wilmslow Library on Friday, 24th March, at 7.30pm.
Tickets, costing £8 for adults £8 and £5 for under 16's £5 are available from Wilmslow Library and Ticket Source.
The Thing That Came From Over There will be the fifth event hosted by Wilmslow Library as part of the 'See it Live in Libraries' project. This is in partnership with Cheshire Rural Touring Arts, who aim to bring professional performers and performances to local libraries.
Tags: