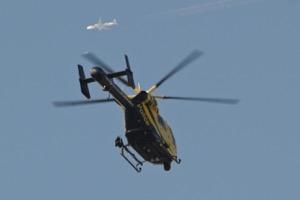 The police helicopter was deployed over Wilmslow during the early hours of this morning to assist officers on the ground in the search for a male who had been seen in suspicious circumstances within the grounds of a private dwelling.
The helicopter was circling very low over Wilmslow Park, Dean Row and the Villas at around 4am on Tuesday, 21st February.
Sgt Mark Durkin said "Unfortunately the search was unsuccessful, although no crimes were discovered or reported this morning so the intentions of the suspicious male are unknown.
"Please remember to secure vehicles and houses and report any suspicious behaviour to the police."
Anyone with information can contact Cheshire Police on 101. Alternatively information can be given anonymously by contacting Crimestoppers on 0800 555 111.
Tags: