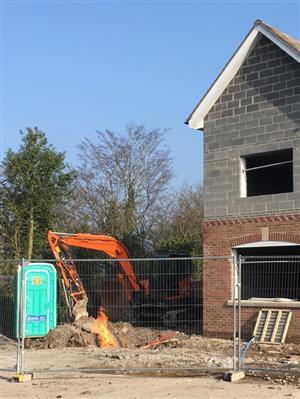 Nearly 500 homes in the Wilmslow Park area were left without electricity after a builders cut into a gas pipe which caused a fire on Tuesday, 14th February.
A new gas pipe was severed and ignited after it was hit as construction work was being carried out at Bletchley Park Way, off Adlington Road.
Firefighters were called and used a hose reel jet to put out the flames. They stayed at the scene until a gas engineer arrived to assess the damaged pipe, using a covering jet as protection while the engineer carried out his examination.
In the meantime, for safety reasons, Electricity North West removed supplies to 486 customers, which were restored by just after 2pm.
This morning (Wednesday, 15th February) a further 251 customers were affected by a power cut in Wilmslow town centre due to a fault on an underground cable.
A spokesperson for Electricity North West, said: "There have been two separate issues impacting power supplies in Wilmslow over the last two days.
"Yesterday our engineers removed supplies to 485 customers in the area at 12.55pm due to a fire caused by third party damage to a gas pipe. We restored 221 customers within an hour and the remaining 264 at 2.13pm.
"This morning a fault on our underground cable caused the loss of supply to 251 customers at 7.45am. Our engineers quickly arrived onsite and restored power to 120 of those customers by 8.58am and the remaining customers at 9.16am.
"We would like to apologise for any inconvenience caused and if you any local customers would like any further information they can contact us 24/7 on the new national number 105 or follow us on Twitter @ElectricityNW."