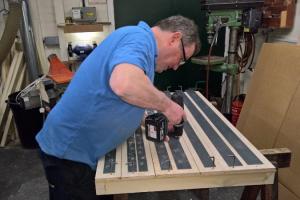 A Wilmslow church is delighted to announce that work has began on building their new organ.
St Bartholomew's launched a campaign at the beginning of 2015 to raise £250,000 for the restoration of its pipe organ "Oscar the Organ" which celebrates its 150th birthday this year.
Since then the church has raised sufficient funds to pay for the new organ from fundraising events including recitals and concerts. There have also been generous donations from the Friends of the Parish and other charitable bodies and from the PCC's own funds.
Organist Philip Underwood explained "We need a new pipe organ because the current instrument has lasted for 150 years, but is now at the end of its life. The new instrument will re-use any pipes and components that can be taken from the old instrument. The aim of the project is to equip St Bartholomew's with a good quality instrument for a grade 1 listed building for worship and concerts for the next 250 years.
"All musicians, of any standard, are inspired by playing on instruments of the finest quality. Most people are unable to own their own pipe organ and it therefore falls to churches such as St Bartholomew's to make instruments available for practice and study.When the organ is finished we plan to establish an organ school at the church offering lessons to beginners and established players of any age."
The old Oscar will continue to play at St Bart's until just after Easter then they will have a temporary small pipe organ until the new Oscar arrives in the Autumn.
Philip added "We plan to celebrate the new organ with celebrity organ concerts including a Silent Movie accompaniment in April 2018 by Donald Mackenzie of the Odeon Leicester Square."
Tags: