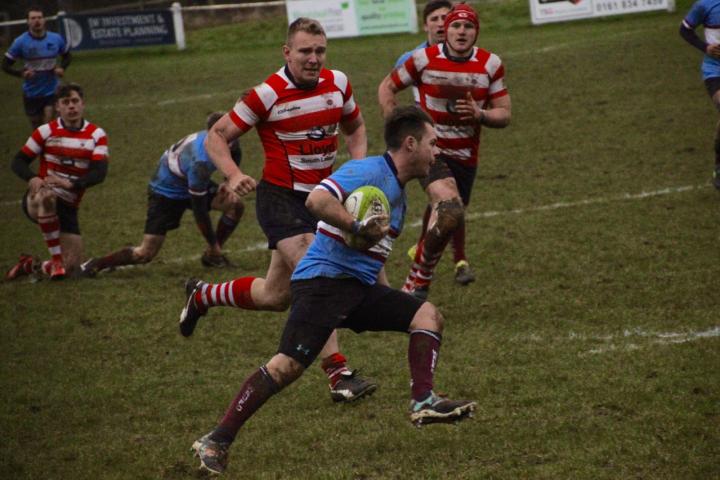 Saturday 11th. February 2017
North 1 West
Wilmslow 30 – 9 Vale of Lune
Matches between Wilmslow and Vale of Lune have traditionally been free flowing, high scoring affairs. Both sides like to play on top of the ground, to throw the ball around, to put plenty of width on it, to run from all parts of the field and to score exciting tries.
This game though was the exception but through no lack of desire by the players. The conditions they had to play in were just not conducive to that type of game and neither side really came to terms with them. It was cold, wet and drizzly, the pitch was scuffed, sticky and slippery, the ball was heavy and slow and squirted about like a bar of soap. Players frequently lost their footing as they took slow passes, man and ball at the same time, and went to ground, where they frequently found themselves penalised for ruck offences.
The referee, Mr. Taylor, was probably correct in his interpretation of the laws but his strict zealous implementation of them stopped the flow of the game and led to general frustration all round and to two Yellow Cards for dissent by Vale players in the final quarter, when the game was effectively won and lost. Wolves coach Rick Jones, sensing the situation at half time, had warned his players to keep their own counsel and was pleased with their self discipline in this regard. Thirty five penalty awards, broadly equally distributed between the two sides, were made during the eighty minutes.
Wilmslow scored four tries, three of them from lineouts close to the Vale line, which had emanated from penalty kicks by Bob MacCallum to the corners. The other try by No. 8, Alex Taylor, was the only one, which could be said to have come from open play, if you include his run from a pick at the base of a scrum about five metres out as being in that category. The rest of the scoring were all penalties, two by MacCallum and three from Vale's Damon Hall, whose hooked banana shaped kicks at one stage in the first half had Vale 9-8 ahead.
The Wolves had the better of the first fifteen minutes. They pulled off their front of the lineout ploy after ten minutes by putting second row Adam Hewitt in for the opening score and followed this up with a penalty from a kick and chase when the Vale backs lost the ball in their own half.
Thereafter, Vale enjoyed plenty of decent possession and field position without ever breaking the Wolves defensive line. They didn't need to. The Wolves regularly coughed up what little possession they had in this period and referee Taylor gave Hall plenty of goal kicking practice. He was successful three times from four attempts. There was one telling breakout by Richard Hughes for the Wolves but not much else went their way until they got themselves into the Vale twenty two just before halftime for MacCallum to nudge them two points ahead with his second penalty.
It was a different game in the second half as led by conspicuous play from No. 8 Taylor, second row Tom Bull the Wolves forwards took charge. Their first attempt at a catch and drive shortly after the restart was squandered when some how the ball slipped out of the carrier's hands as the Wolves phalanx advanced purposefully towards the Vale line. On around sixty minutes, the Wolves got a scrum five metres out. It went forward at just the right time and Alex Taylor scythed through the defence to put two scores between the teams. Five minutes later, it was three scores when Taylor again touched down from a catch and drive. The Wolves were soon back in the same corner, courtesy of yet another MacCallum penalty, and when referee Taylor got fed up with a series of infringements by the Vale stopping Taylor, Bull and company from getting a bonus point fourth try, he awarded the Wolves a penalty try instead.
Coach Rick Jones was pleased with the five league points, which had looked unlikely on the hour mark. It had been a much improved second half in which Alex Taylor, Tom Bull and the young Kiwi flanker Connor Loomans had all stood out. Nevertheless it had still been a messy, not particularly satisfying, afternoon for both sides.
Photo: Ollie McCall.
Match report by David Pike.
Tags: