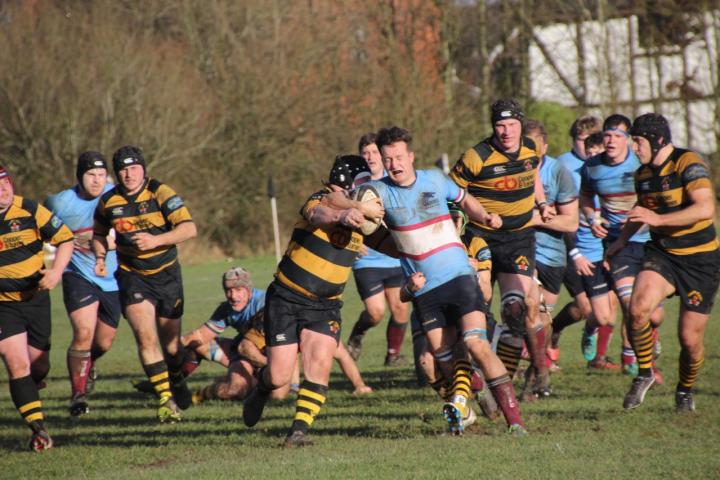 Saturday 4th. February 2017
North 1 West
Leigh 23 – 18 Wilmslow
It didn't take long to see that this game was a banana skin for the Wolves just waiting to happen. A hastily rearranged game on what had been a blank date seven days before, key players missing, others, probably not fully match fit, returning after long lay offs, new comers drafted in sooner than planned and three weeks since they last played. It all contributed to an unconvincing looking Wilmslow line up.
Add to the mix Leigh's typically sodden mid winter pitch, hardly much improved on the previous weekend when it had been ruled as un-playable, and a bristling resurgent home side, who had rediscovered how to win. The home side would also have known that the Wolves are never more dangerous than when they can run over the top of a firm ground so the soft wet slippery surface would be a great equaliser for them. There was plenty of reason for some nervousness amongst the handful of loyal Wilmslow supporters, who had forsaken the comfort of the Six Nations on television, as they donned their Wellington boots to squelch their way around the muddy Leigh touchlines. And so it proved.
Leigh kicked off towards the Hand Lane end and although the ball was gathered in by the Wolves, they failed to clear their lines, despite two opportunities to do so. They got caught in possession under their own posts, where they were promptly penalised for an 'on the floor' offence, allowing Leigh's kicker Elliot Ryan to open his account. On the quarter hour, Leigh came again, when they fielded a feeble Wilmslow clearing kick in acres of space in midfield. The defence just seemed awol as Leigh left winger Jimmy Wilkinson skated over the ground to score under the posts. It begs the question as to whether it would be better to concede a throw at a lineout than to hand over the freedom of the ground with an inaccurate kick down the field.
Despite this set back, the Wolves were still exerting most of the pressure but the power and pace of recent outings was missing, due in part to the soft conditions and in part to the absence of their most powerful ball carriers. Several promising positions broke down before Bob MacCallum and Ben Day between them caught the Leigh defence unaware with a penalty crosskick, instead of the expected prod into touch. Day was fully aware of what MacCallum was going to do and took the ball to power over for the try which brought it back to 10-7. The Wolves remained in the box seat for the next fifteen minutes, getting close but not being able to finish anything off, until MacCallum tied things up with a 37th minute penalty.
Almost immediately, Leigh were awarded a penalty for another technical offence and taking it quickly, they caught the Wolves unaware. When they recycled it to Wilkinson on the left, the speedster scorched past the defence to score his second try of the half, giving his side a 17-10 half time advantage.
The second period got underway in much the same vein. Most of the play was in the Leigh half as Wilmslow's forwards continued to pound away to break down their opponent's defences. But, of course, they were always liable to lose possession, leading to several anxious moments when the home side was able to break out on the counter. As the third quarter came to its end, the Wolves managed at last to make a catch and drive pay off, when hooker Alex Donaldson touched down.
The hard work, however, was immediately negated, when they failed to deal properly with the restart, allowing Wilkinson this time to plant a teasing kick into the left hand corner. There was to be no escape as the Wolves conceded a penalty for Ryan to make it a five point advantage for the home side. Ten minutes later, he had another shot at goal for 23-15.
MacCallum then kicked his second penalty to set up a rousing few final minutes in which the Wolves threw everything they had against an impenetrable Leigh defence. They had plenty of field position and territory and on another day it might have gone their way. But the accuracy and control was missing and for all their territorial advantage and pressure, they were unable to create the clear cut chances they needed. Leigh determinedly held out. They'd had their noses in front throughout and nobody could complain that they hadn't deservedly earned the spoils.
It just went to show that the difference between most of the sides in this league is not all that much and if you're not at your best, you can easily end up paying the price.
Photo: Second Row Adam Hewitt tries to break through.
Match report by David Pike.
Tags: