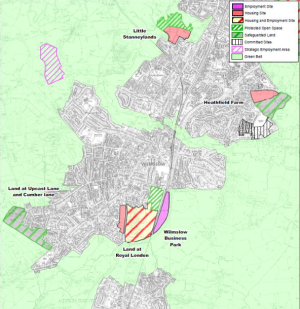 Cheshire East Council's Local Plan takes another step towards adoption as consultation begins on the final amendments to the blueprint for the borough's development.
The consultation on 'main modifications' to the Local Plan has been called by Planning Inspector Stephen Pratt and will run for six weeks from February 6th to March 20th.
There are no major modifications for the proposals for 900 new homes in Wilmslow by 2030, which includes: 175 at Royal London (around 80 on land to the east of the existing campus, around 20 to the north of the existing campus and around 75 on land west of Alderley Road), 200 at Little Stanneylands and 150 at Heathfield Farm with 97 listed as being completed and 305 having already been committed by March 2016.
However, campaigners feel these are out of date figures which will result in considerably more houses being built in Wilmslow than required in the Local Plan.
David Lewis of Residents of Wilmslow said "Cheshire East Council are still using figures for completions and commitments to March 2016 which are now almost a year out of date.
"Since March 2016 a considerable number of commitments have come forward - many of them windfalls - the result is that there will be a gross over-provision of houses In Wilmslow by 2030 if all the sites allocated are built out, well over 1,000 compared with the 600 called for in the plan."
In Handforth the expected level of development is 2200 new homes including 250 on land between Clay Lane and Sagars Road and 1500 at the North Cheshire Growth Village, located off the A34 opposite Handforth Dean Retail Park, with 70 listed as being completed and 323 having already been committed by March 2016.
This further consultation follows nearly three years of public comments and submissions on the council's proposed strategic blueprint for the borough's development to 2030. Most recently the Local Plan underwent a further six weeks of examination hearings, which ended on October 20th 2016.
In December, Mr Pratt wrote in a report that the locations and extent of development proposed in the plan seem "appropriate, justified, effective, deliverable and soundly based". He also said that issues relating to other strategic policies in the plan "seem to be capable of resolution by modifications".
Mr Pratt added that the council's further proposed changes to the Local Plan seemed to address the changes "necessary to ensure that the revised plan is sound and legally compliant".
Councillor Ainsley Arnold, cabinet member for housing and planning, said: "It is gratifying to see our Local Plan moving forward firmly towards adoption. The plan is the council's most important tool for shaping development in Cheshire East to 2030 and I am pleased the hard work of our officers and members has paid off.
"This will be the eleventh round of public consultations and this Local Plan is one of the most consulted on in the country. There has been unprecedented interest in the consultation process and I'm sure this engagement will have allowed everyone to feel they had the opportunity to have their say."
Cheshire East Council received a total of more than 60,000 responses in the 10 previous consultations on its draft Local Plan. This represents an unprecedented level of interest in a council consultation process.
Inspector Pratt acknowledged in his closing remarks in his report in December 2016 that 'this has been the most complex and challenging Local Plan I have ever examined' – having completed 20 or so examinations to date.
You can take part in the consultation online via this link: www.cheshireeast.gov.uk/localplan from Monday, 6th February.
The Site Allocations and Development Policies Document (SADPD) - which is the second part of the Council's Local Plan - along with the Issues Paper and Revised Sustainability Appraisal Scoping Report are also proposed to be published for six weeks public consultation shortly, subject to the Portfolio Holder's agreement at his meeting on 20th February.
The SADPD will provide development management policies and make further site allocations as necessary to meet the overall development requirements established in the Local Plan.
This consultation will be supported by a 'call for sites', providing an opportunity for landowners and developers to put forward sites to the Council that they consider are suitable and available for future development in the Borough - for housing, commercial, employment or other development. These will generally be 'non-strategic' sites - which means sites of less than 150 homes or 5 hectares in size.
The Schedule of Proposed Main Modifications and supporting documentation (sustainability integrated appraisal addendum and habitats regulations assessment) are also available for inspection at Macclesfield Customer Service Centre, Town Hall, Market Place, Macclesfield SK10 1EA (Mon-Fri, 8.45am-5pm); Westfields, Middlewich Road, Sandbach CW11 1HZ (Mon-Fri, 9am-5pm) and all public libraries in Cheshire East.
Tags: