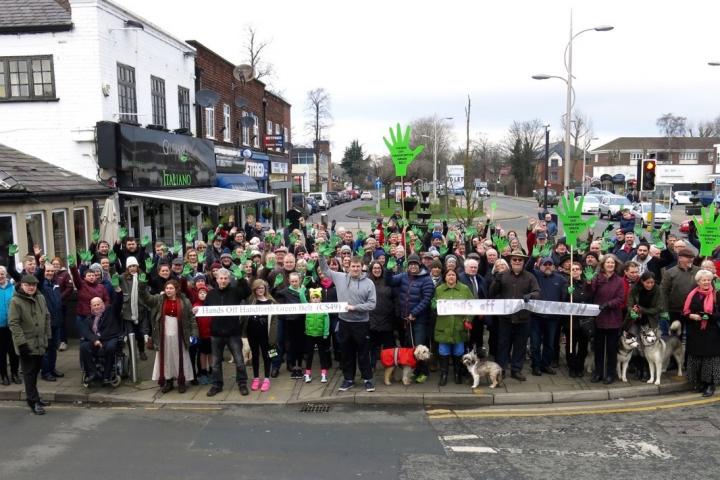 Campaigners were out in force on Saturday, 21st January, to protest against plans to build 250 new homes on green belt land to the west of Handforth.
The Hands off Handforth Green Belt group, which was set up in 2012 to try to persuade Cheshire East Council to preserve Handforth's remaining green open spaces, especially the Green Belt, organised the protest to draw attention to the problems they believe will arise from the development between Clay Lane and Sagars Road.
Despite the freezing temperature, about 75 local residents took to the streets to demonstrate the strength of feeling in Handforth.
Speaking about the 8.5 ha site off Clay Lane which is included in the Local Plan for 250 new homes, Councillor Brian Tolver said "The only access to the site is along the very narrow existing roads that are, because of parked cars, little better than one-way roads, all of which emerge onto the increasingly busy Manchester Road - the main north-south artery through Handforth.
"What's more, all these 250 extra houses, plus the 175 behind Hill Drive and the 'Care Village, will need to find GP services and school places in the already much over-stretched Handforth schools and surgeries. Or, more likely, add to Wilmslow's over-stretched facilities. CEC's plan is all about buildings, not people."
Councillor Tolver added "We see absolutely no justification for this raid on the Green Belt: based on Handforth's population, our "fair share" of extra housing would be 612, and we have already provided over 450 of those. Dumping another 2,000+ on us is totally unfair. What's more, it's in just about the worst possible position for traffic – the A34 from Wilmslow, through Handforth, and all the way into Manchester, is badly congested, and all the extra development envisaged will increase this by at least a whopping 50 to 65 per cent. And that doesn't consider what will be added in the emerging Greater Manchester plan.
"We have submitted these objections, and many more, to CEC and to the Inspector of the Local Plan, and all the cumulative protests have had some effects. The total number of houses to be built on the A34 has reduced a little, and the Government's promise to provide schooling and medical facilities in their "Garden Villages" just may bear fruit in Handforth, but this is long on warm words and very short on cold facts and hard cash."
He continued "Our group will continue to argue the case for fairness of treatment for Handforth and for sensible levels of development where it will be useful and not overwhelm the infrastructure and services.
"I hope everyone in the north of Cheshire East, even if they don't live in Handforth, or don't give two hoots about Green Belt, will realise just how truly appalling the increase in traffic on the A34 will be, and tell Cheshire East Council it just isn't acceptable to add 50% to a road that already has rush hour queues of up to 2, even 3, hours. There will be more opportunities to respond to formal consultations on the Plan and the later Site Allocations (and of course the detailed specific individual planning applications) over the next months and years. Everyone who is concerned about this massive over-development should make their views known as the opportunities arise."
Hands off Handforth Green Belt are also in the process of organising a petition which they will be doing by going house-to-house in the village and expect to obtain the support of the vast majority of Handforth residents.