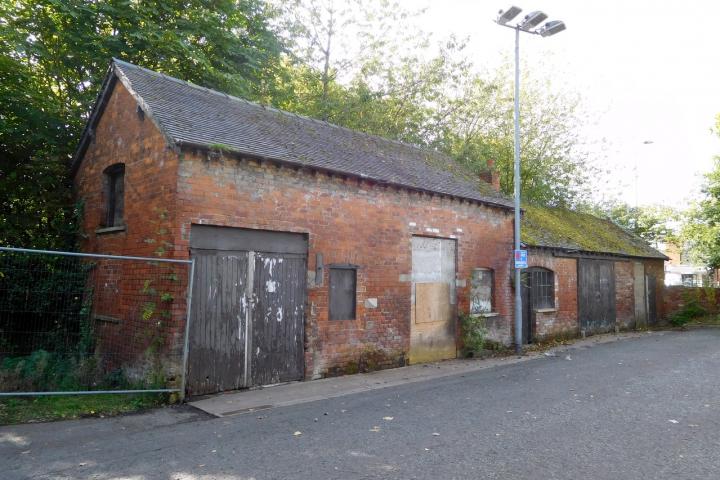 Plans to create a community venue in one of the town's oldest buildings have been unsuccesful as Cheshire East Council has agreed to lease the derelict historic building to a Stockport-based construction company.
The Council, which deemed Rectory Stables to be surplus to their requirements, will enter into a 10 year lease with Lyme Design and Build Limited for the stable block which is situated adjacent to Wilmslow Leisure Centre Car Park. The building has been vacant for a number of years and is in need of substantial renovation.
Members of the Wilmslow Trust and Transition Wilmslow had hoped to transform the stables into a community hub and submitted an outline bid to Cheshire East to convert the stables to provide a meeting room that could seat 30-40 people and exhibition space for information on the town's local heritage. It would also have provided a venue for the town's annual Art Trail and for local artists and makers to exhibit and sell their work.
Pippa Tyrell told wilmslow.co.uk "Had we been successful in securing the building, we would have worked with local groups to crowdfund the restoration of the building. We believed that it could provide a community meeting place, a hub for information about our cultural heritage (Lindow Man and Alan Turing for example) and an attractive development on a key town walkway alongside the restored pond area.
"We were clear with CEC that we had no funds but were prepared to work with the community to raise them as a community venture. They came back to us to say the preferred bid was a commercial one, which did not surprise us as they inevitably would want to have any available rental income. We hope that the new tenants will restore the building sympathetically, being mindful of its history and it's very visible position on one of the main routes to the town centre."
Pippa added "We are of course disappointed, as Wilmslow lacks a town focal point or a place to celebrate our heritage. However, on our tree walk in November we did look at the trees at the back of the Stables and had some ideas about how that currently very messy area could be improved to make a green walkway: we would be delighted to hear if anyone else has any ideas about that, and how we could raise the funds to clear, replant and improve it."
The lease will enable Lyme Design and Build Limited to invest in the derelict building and will allow the Council to retain the asset and realise any uplift in value.
Cheshire East Council will receive an annual rent of £7,200, which is to be reviewed at 3 year intervals, and an 18 month rent free period has been agreed to allow the tenant to undertake improvements and fit out works to bring the property to a tenantable condition.
The Council advertised the property known as Rectory Stables for a 10 year lease by way of a tender process and received eight offers.
Lyme Design and Build Limited propose to use the site for an office and storage for home improvements, new builds and expansions. They will be responsible for obtaining planning permission for the proposed improvements works and for a change of use.
Councillor Rod Menlove said "The derelict Rectory Stables is one of the oldest buildings in Wilmslow and a significant part of the heritage of our town. So it is tremendous news to have a tenant at last with a restoration agreement so that the building will become a positive feature.
"This particular area has long been one of neglect and as ward cllr I have been pressing Cheshire East Assets for priority on a project that has not been straightforward.
"I'm pleased to say that as part of the renovation, some of the surrounding intrusive self-seeded trees and shrubs will be cleared to create an even more open aspect.
"This work, together with the restoration of the pond by the Wilmslow Partnership, will make this area an attractive feature for residents and visitors alike."