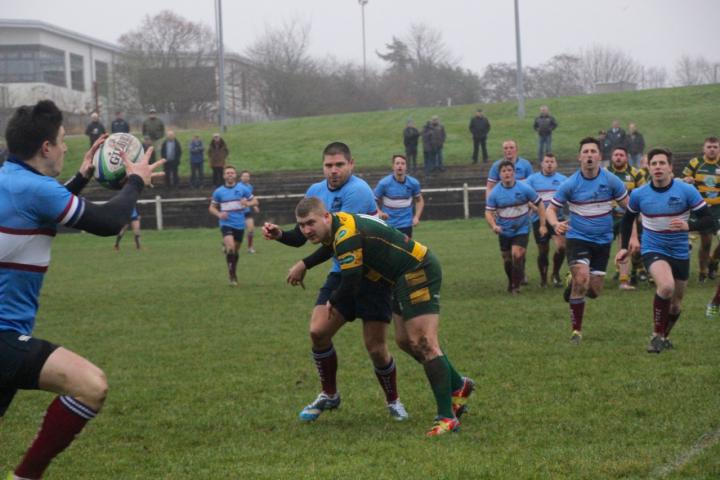 Saturday 7th. January 2017
West Park (St. Helens) 29 – 33 Wilmslow
After a three week break for turkey, mince pies and plum pudding, the Wolves started the New Year with a performance containing a mix of the good, the bad and the plain indifferent. In scoring four tries, three of them during a second half revival, they did no more than just enough to scrape home against the St. Helens outfit.
The home side for their part will feel aggrieved to have scored five tries and to have still ended up as losers. They really only had themselves to blame as a string of penalties for the same offence at the breakdown enabled the Wolves to keep in touch with three penalties at a time in the game when the home side was threatening to run away with it.
Adrift by 22-16 at half time, it was still a manageable deficit for the Wolves to make up and a few harsh words of Anglo Saxon from coach Rick Jones to the effect that they needed to inject a dose of urgency into their play, if they didn't want to come away empty handed, had the desired effect.
The two Looman brothers, Connor and Caleb, the latest arrivals just arrived from a balmy Hamilton summer in New Zealand were present on the touchline to view their new team mates. They seemed unperturbed by their introduction to the dreich misty conditions of an English winter and must have thought that the rugby looked easy when the Wolves ran in a score after just a minute's play. West Park had started the game by failing to kick the ball the required ten metres and from the ensuing scrum Wolves No. 8 Alex Taylor found the home defence awol, set off down the middle before giving a simple pass to openside flanker Max Harvey, who had the easiest run in he will ever have without any hand being laid upon him. For the next few minutes, the Wolves looked as though they could add to their score any time they wanted to but then they lost a scrum in mid field and the whole tempo of the game changed.
In the next thirty minutes, centre Danny Green, No. 8 Patrick Loughnane twice and winger Josh Ainsworth all scored for West Park against a strangely lack lustre disorganised Wolves defence, lacking its normal bite. For much of this period, they handled and passed well, had support runners in the right positions and from number one all the way to fifteen just seemed to be thinking faster and better than their opponents. If it hadn't have been for their propensity to keep on offending at the breakdown, allowing Bob MacCallum three successful kicks from four attempts, they would have been out of sight by half time.
A fifth penalty shot just after half time was missed but the Wolves were now beginning to roll. Twice in ten minutes, they found the long range catch and drive a profitable tactic ending with a second and third try from Harvey. In between, another perfectly good scoring opportunity was butchered under the West Park posts when big Jack Walmsley ran into one of his own team mates. West Park cleared to halfway and from the lineout went through the phases until flanker Matthew Cozens stepped out of an attempted tackle on the Wilmslow twenty two and ran in under the posts. The decisive score came when the home side were penalised yet again on half way and MacCallum set up a lineout from which the ball was spun across the line. Full back Ben Day made the extra man to break the West Park defensive line and off loaded under the posts to Alex Taylor who only had to flop over to score.
There were still fifteen minutes to play and for much of it, the Wolves were penned back in their own twenty two. The defence though held firm, although not without some alarm, despite failing to always be secure on their own ball and to clear their lines effectively when they had the chances to do so. A pair of crucial turnovers on their own line though allowed them to regain possession and to run the clock down with a series of picking and driving out of defence. Indeed they could have increased their lead when a late flurry was held up just short. The referee awarded the scrum to West Park and to their credit it remained rock solid for the final play of the game, which got them to half way, before the Wolves salvaged possession and kicked it out of play.
Throughout, the home side had always looked capable of grabbing a final winning score so no side was greeted with some relief by the Wolves and their supporters. Grand larceny or not, they had collected the maximum five league points to move up into third place again. Rick Jones singled out the Wolves back row of Alex Taylor, Mike Black and Max Harvey, whose carrying, harrying and overall work rate had been outstanding. Without their efforts, the cause would have been lost, no doubt of that. The front row too, all four of them, had a decent afternoon and there was a workmanlike debut from James Nicholson in the second row, doing everything that had been asked of him. The side overall will know, however, that it was someway off its best and on the balance of play, in golfing parlance, they had benefited from 'the rub of the green'.
Photo: Toby Rowe takes Ben day's pass.
Match report by David Pike.
Tags: