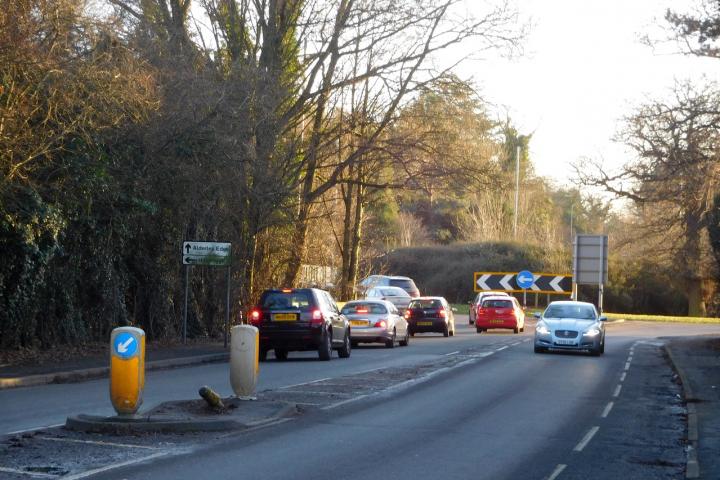 Cheshire East Council is currently consulting on its Pre-Budget document, which sets out proposals to save £94m and balance the books during the three year period from 2017 to 2020.
In addition to proposals to cut costs, the report contains new infrastructure projects and other proposals designed to open up opportunities for businesses and create jobs.
Included in the Pre-Budget Consultation is a proposal to spend £1.2m improving the Alderley Road and A34 junction and access for pedestrians.
The report states "The junction between Alderley Road and the A34 in Wilmslow adjacent to the Royal London site acts as a pinch point in the highway network with regular congestion occurring, particularly at peak times associated with the adjacent existing employment site traffic.
"The proposal is to widen the Alderley Road approach to the A34 roundabout, adding an extra lane, to increase junction capacity. Additionally, it is proposed that associated improvements to pedestrian and cycle access to the adjacent existing employment site are provided to encourage access by means other than car.
"The aim of the improvements is to reduce congestion on the highway network by increasing capacity and reducing traffic to and from the employment site."
Councillor Rod Menlove said "Proposals for highways improvements for pedestrians, cyclists and drivers are always welcome and particularly so for this traffic congestion area.
"Three lanes at the roundabout is a given and it must be at least two lanes from the Royal London exit plus allowing for the right turn in to Fulshaw Park South. It also gives the opportunity to resolve any outstanding street lighting and drainage issues."
If the proposal goes ahead the Council intends to spend £300,000 on works in 2017/18, £400,000 in 2018/19 and £500,000 in 2019/20.
What do you think about the current situation at this junction and the proposals? Share your views via the comment box below.
Tags: