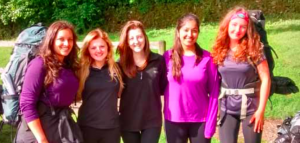 A group of students who achieved their Gold Duke of Edinburgh Award were invited to St James' Palace in London to be presented with their award by a member of the Royal Family.
Thirteen former pupils of from Wilmslow High School went down to London on Wednesday, 14th December, to receive their awards from HRH the Earl of Wessex. He was joined by guest speakers Sophie Thornhill and Helen Scott, Paralympic gold cyclists from Cheshire.
said "As they have all left school now, it was a lovely opportunity to meet up with friends, discuss university life and reminisce about expeditions as part of DofE.
added "It was a proud moment for the students and their families, and the culmination of many years of volunteering, improving skills, physical endeavour and of course the expeditions.
There are currently 45 students about to finish their Gold award in Year 13, a further 25 in Year 12 and many more students in Years 10 and 11 carrying out their bronze and silver awards. Those who have completed bronze and silver by the end of this term will receive their badge and certificate at a special school assembly on Friday 27th January 2017.
Tags: