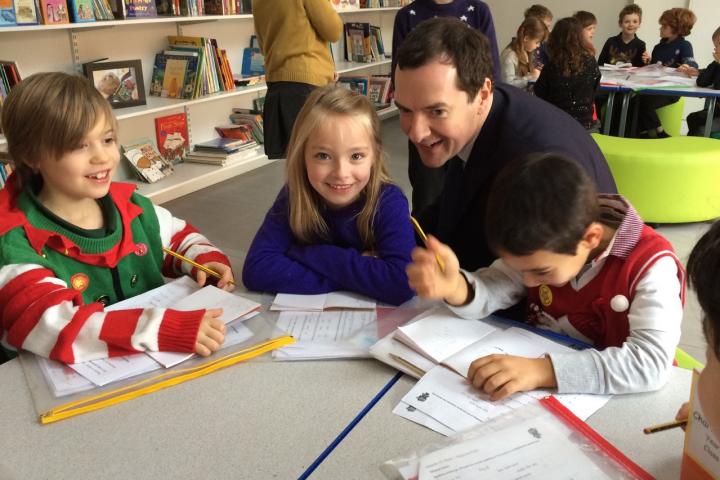 Children at St Anne's Fulshaw had a visit from Tatton MP George Osborne on Friday, 16th December.
After a tour of the school, when he admired all the Christmas jumpers worn by the children to raise money for JK Rowling's Lumos charity, he visited a group of pupils working in the new library. The Year 2 pupils enjoyed explaining their work to him and showing off 'the egg box' which is packed with all their new books.
After meeting the rest of the school, he hosted a question and answer session with Year 5 and 6 pupils in the hall. The children had prepared questions on democracy and governance which they put to him with interest and enthusiasm.
Over the course of the next half hour the children learned which country he would most like to visit, how the government debates and decides new policy, about some of the significant decisions that he has been involved in making, about his stance on leaving the EU and even some of the opposition politicians that he admires. They were particularly surprised to hear about how quickly politicians have to move out of their offices and homes following a change of government.
Headteacher, Clare Daniel, said "This was a great opportunity for our pupils to learn about how democracy works, and how politicians balance their responsibility to their constituents with party politics. The children will be visiting the Houses of Parliament later in the year and Mr Osborne has really fired their interest in governance and democracy."
George Osborne said: "St Anne's Fulshaw is a fantastic small school with dedicated teachers, hardworking pupils and supportive parents. It has a real community spirit and I look forward to seeing its continued success."
Tags: