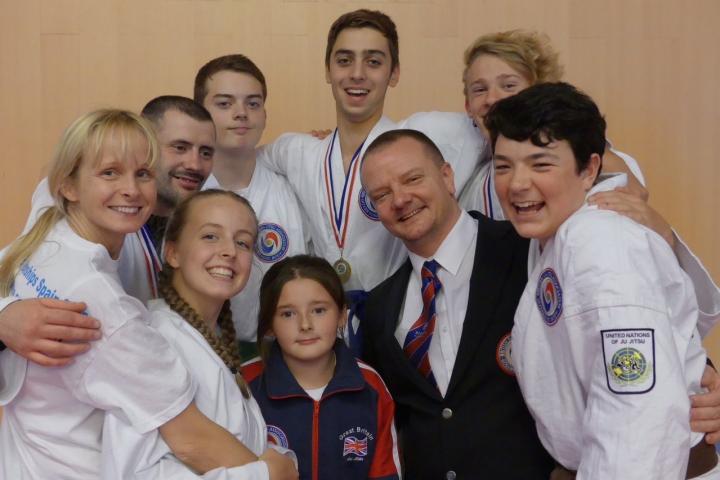 Members from a local martial arts club popped into a Wilmslow Town Council meeting this week to thank them for their support and show off their medal haul.
Seven members from Wilmslow Ju-Jitsu competed in the United Nations Jujitsu Championships in Benidorm at the end of October with the trip partly funded by a £1200 grant from Wilmslow Town Council.
The team comprising of Danny Angell, Phoebe Rowe, Ellie Harris, Ben Fazelynia, Robert Davis, Eric Nelson, Joe Harney, accompanied by Sensei Andy Smith and Sensei Sara Harris, had a very successful trip returning home with nine medals.
Coach Julie Smith said "We are immensely proud of these guys for all their hard work, effort, commitment and enthusiasm - not only in their training for the competitions but also in helping to raise funds for their flights, hotel and kit.
"They are an inspiration to others and great representatives of the club."
In addition to the Town Council grant the team organised some fundraising themselves to cover the costs of the trip which included sponsored throws, the Bushido Bake Off, cake sales and a raffle. Ben Fazelynia also competed a Cycle Challenge riding 100 miles in two days and they ran a Tombola at the Party in the Carrs in June.
Speaking at the Town Council meeting on Monday, 19th December, Councillor Martin Watkins said "It's very nice of you to come here because we get a lot of requests for grants as you probably know and it's nice to see people come back in and say how much they appreciate it.
"I am really pleased that you went, that you enjoyed it and you were so successful. Well done."
Tags: