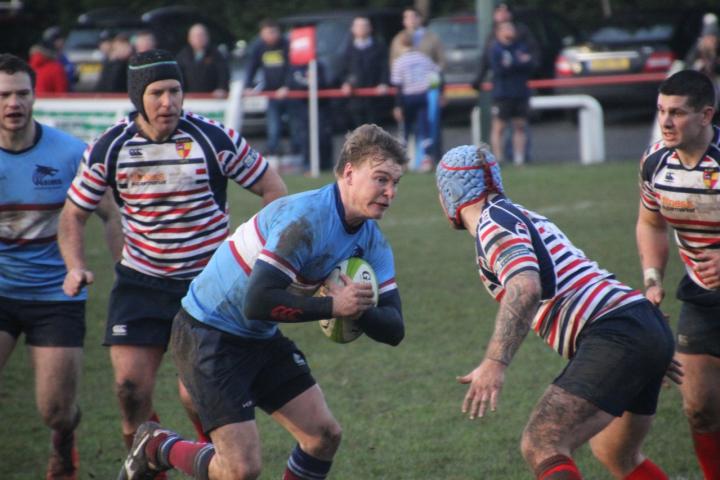 Saturday 17th December 2016
North 1 West
Birkenhead Park 28 – 17 Wilmslow
This was Wilmslow's last chance of 2016 to take the scalp of a top two side in this league and, just as had been the case in 2015, they didn't quite have the wherewithal to manage it. Three of their four losses in the current campaign have been against the two unbeaten sides at the top of the league. A fortnight ago it had been at Kirkby Lonsdale and on Saturday it was at Birkenhead Park. Both matches ended up producing very similar score lines against two sides producing very different styles of rugby.
Where the Cumbrians employed speed of thought and ball handling skills, the Merseysiders relied more on their power, physicality and no little street cunning to wear down their opponents' resistance. If the Wolves are ever to break through the barrier that separates them from being genuine title contenders, you would have to conclude on the evidence of these two games that any shortcoming in their play is not so much due to weakness in one or two positions but to an overall need to improve across the whole team, in their accuracy, in their ball retention and in their occasional defensive lapses. They have made great strides in recent seasons to become a top four team but the next step still beckons and is the most difficult one to make.
In this game, they made an excellent start with two tries and fourteen points in as many minutes. The first came when Park had been forced to concede a brace of penalties in quick succession, which enabled Bob MacCallum to set up a good attacking position in the Park twenty two. Although Park defended the lineout without alarm, they were caught out when the ball was released and left winger Sam Cutts came in off his wing to make the extra man in midfield and to force his way over. Park No. 10 Simon Mason then stuck up an awkward restart which pressurised Wilmslow into conceding a scrum from which Mason now launched one of his typical high kicks that drop out of the sky like artillery shells, only on this occasion it was taken by full back Toby Rowe, resembling a medieval knight tilting his lance at full gallop towards the foe. A quick exchange of passes with Rick Hughes and Sam Cutts opened up the gap through which Rowe advanced without any hindrance for a well executed try.
If this hadn't been the start that Park wanted, they didn't allow it to get to them as they worked their way with a combination of forward drives and kicks into Wilmslow's twenty two, where two Mason penalties in quick succession, the second emanating from another high kick this time catching Rowe in no mans land, reduced the deficit to a more manageable eight points by the end of a very eventful first quarter.
The Wolves still had their opportunities but didn't have the composure to retain possession for sufficiently long phases to really stretch the Park defence again. In contrast, the home side was now nicking the odd Wilmslow throw at the lineout, increasingly bossing the scrums and stealing the ball from hand when it wasn't sufficiently well guarded. The force was building and they began to break through the Wolves defensive line. As half time approached it all came together when they fully capitalised on two failed Wilmslow clearance attempts. The ball was stolen in contact ten yards out and off loaded to centre Gaz Coy, who purposefully took his chance. You couldn't say that it hadn't been coming.
The second half hadn't been long started when the Wolves got driven off their own scrum. The ball squirted out, a Park back row foot banged it up the field where Park were awarded a scrum five yards out. The Wolves defended several moves manfully but it was no surprise when they were penalised for being offside allowing Mason to complete his hat trick of penalties.
The Wolves though weren't quite done for yet and a spirited response eventually won a penalty from which MacCallum restored their single point lead. They had been unlucky to have had flanker Mike Black's touch down moments earlier ruled out. Black, showing some rare form at present, was conspicuous throughout.
The overall direction of play, however, was towards the Wilmslow line. Prop Jonny Evans was no sooner on as a substitute than, by way of welcome, he received unseen by the referee, a fierce punch to the jaw and had to be taken off. Park's driving play was now taking its toll and as the Wolves were forced back, Coy again broke the line on around half way and ran in for his second and decisive score. The final denouement followed soon after when another foray on the Wilmslow line ended with substitute Sam Tyrer touching down.
In the ten minutes remaining, there was a final defiant 'hurrah' from the Wolves as they tried to rescue a bonus point but to no avail and play was back again in their quarters when referee Hiney brought it all to an end.
It was only the third bonus point of the season that Park had failed to earn, two of them from games against Wilmslow, a measure of how far the Wolves have so far come even though that first elusive win over a top two side has proved to be still beyond them.
Photo: Centre Ethan Harding going into contact against Birkenhead Park.
Match report by David Pike.
Tags: