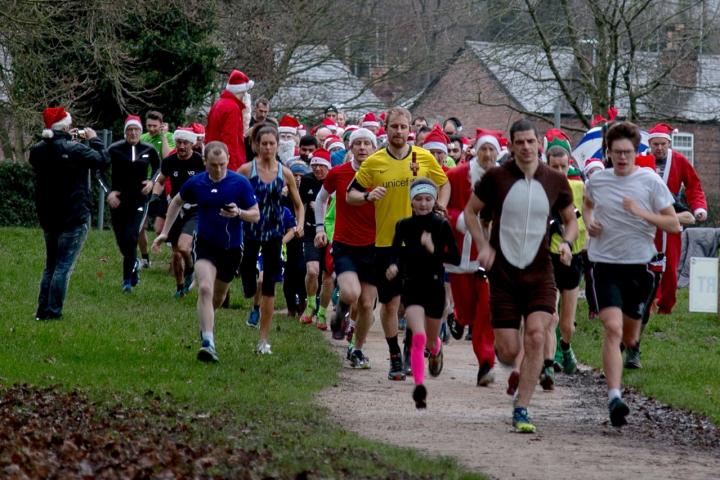 Runners are being invited to don their festive hats and outfits on Saturday, 24th December, for the last Wilmslow parkrun before Christmas.
Organisers are looking forward to seeing lots of Santas, fairies and elves at the years Wilmslow Christmas parkrun on Christmas Eve..
Wilmslow parkrun is a free weekly 5km timed run which is open to all abilities and takes place every Saturday at 9am in the Carrs.
Mat Rees, Event Director of Wilmslow parkrun, said "In Wilmslow parkrun tradition we have our Santa run the week before Christmas as our way of joining in the festive season and trying to further build parkrun into our lovely community.
"We really enjoy hosting this run for the community and we hope it continues to grow and become part of more peoples routine in Wilmslow.
"Our volunteers make an effort week in week out in order to ensure that runners have a safe and enjoyable event. They are passionate about making Wilmslow parkrun a great place to run for people of all age and ability."
The Santa Run is on Saturday 24th December at The Carrs Park, Wilmslow. The run starts at 9am so runners are advised to get there by 8.50am in order to hear the full run briefing and warm up.
New runners must register online beforehand, you only ever register with parkrun once, and take a printed copy of your barcode with you.
Since opening in April 2015, Wilmslow parkrun has held 88 events with 2543 runners taking part and in total over 10,490 runs from all the attending runners covering 52,450km with 2521 personal bests!
Wilmslow parkrun is entirely organised by volunteers, email wilmslowhelpers@parkrun.com if you are able to help.
Photo by Christian Braybrooke.
Tags: