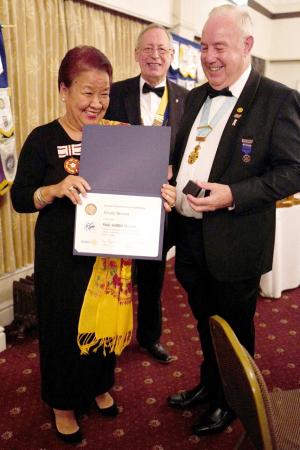 Wilmslow resident and prolific fundraiser Khumi Burton was presented with the Paul Harris Fellowship at this year's charter dinner of the Rotary Club of Wilmslow Dean.
Deputy Lieutenant of Greater Manchester, Khumi Burton was presented with the highest honour given by Rotary International by District Governor Stan Bowes. Named after their founder, the Paul Harris Fellowship honours those who have made a significant contribution to society and mankind.
Kevin Kelly nominated Khumi, who was born and raised in Northern India, because she has integrated in the community and society.
Kevin explained "Whilst working for an international airline company she met an officer from the 22nd Cheshire Regiment and subsequently married him
"Sidney who sadly passed away was a strong supporter of charitable work, particularly for the services and former members of the armed forces. Khumi shared this role and supported him in his work.
"When Khumi came to the UK in 1976 in her indomitable manner she set about integrating into the UK community where she made a significant contribution in many areas .. Crimestoppers, British Red Cross, BBC GMR, Air Transport Users Council, Wilmslow Street Party, Combat Stress, Poppy Appeal, Royal British legion etc.
"She was made a Deputy Lieutenant of Greater Manchester in 2003 – the first Indian woman to be appointed in the country. In this role she represents Her Majesty The Queen at civic, formal and community events, especially when new British citizens are sworn in and they take their oath. Khumi was also a JP serving the community of Manchester in the justice process.
"However, it is her charitable work where her energy dedication and commitment was really evident. Following the loss of Sidney she carried on his work and when the British Legion needed a Poppy Appeal organiser for the Wilmslow area, Khumi stepped in and took that role as well. This is a time consuming and vital role and she has carried it out with distinction."
"Her commitment to the UK led to herring the first female President of the Royal Society of St George in Greater Manchester and in the country - whose principal aim is to foster the love of England and the Commonwealth nations by spreading knowledge of English traditions and ideals."
Khumi was completely unaware that she was going to be presented with the Paul Harris Fellowship, saying "This award came out of the blue. I was invited by Kevin Kelly to be his guest to attend the 79th Charter. I had no clue of anything until my name was mentioned by Kevin Kelly. I was taken completely by surprised and felt humbled.
"The District 1285 Governor Stan Bowes emphasised that this is a very rare honour -given to a non-Rotarian. I will treasure and will wear it with pride whenever the occasion arises."
Khumi added "The Rotary Wilmslow Dean do so much in the Community and for them to think I deserve recognition is a real honour."
Photo: Khumi Burton with Club President Colin Eggleton (centre), and District Governor Stan Bowes.