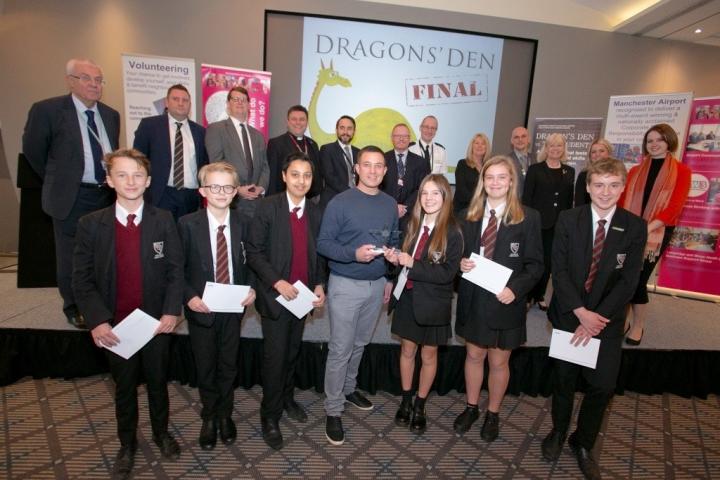 Students from Wilmslow High School have been recognised by business leaders at Manchester Airport, after they won a Dragons Den-style enterprise competition, beating 14 other schools from across Greater Manchester and Cheshire and raising over £2000 for charity.
The team made £2,205 profit, which is to be donated to East Cheshire Hospice, by taking part in 13 sales opportunities around Manchester and Cheshire with their idea for a "Reindeer and Santa Sweetie Bag," which contained different coloured sweets in layers to make the familiar faces.
Sweet Success made up of Corben McDonald, Rebecca Web, Josh Singh-Rathore, Seb Finlay, Annabel Rowland and Tom Curran were awarded up to £100 as a business set-up loan after an initial pitch of their product to the Dragons, who were made up of representatives from Manchester Airport, WDF, Marriott, Holiday Inn Express, Enterprise Rent a Car, GMP, John Lewis, Singapore Airlines, TransPennine Express and the Airport Chaplaincy.
The Dragons Den Enterprise competition challenged students to develop a Christmas present for family or friends retailing for £5 or less. The teams set themselves up as a virtual business; design a gift, work out how to manufacture it , purchase materials, market and sell the product and produce accounts.
The team from Wilmslow High School won after making the most profit.
Wendy Sinfield, Community Relations Manager at Manchester Airport, said: "The Dragons Den Challenge develops many skills that will be needed by students as they progress in their journey to the workplace.
"There were some really fabulous ideas and everyone who took part made a significant contribution in completing the challenge and raising thousands of pounds for local charities."
A total of £8,700 profit was made by all of the schools who took part, which will be shared between St Ann's Hospice, East Cheshire Hospice, Francis House and Manchester Children's Hospital.
The initiative has been taking place since 2009 and £57,200 has been raised during that time.
Tags: